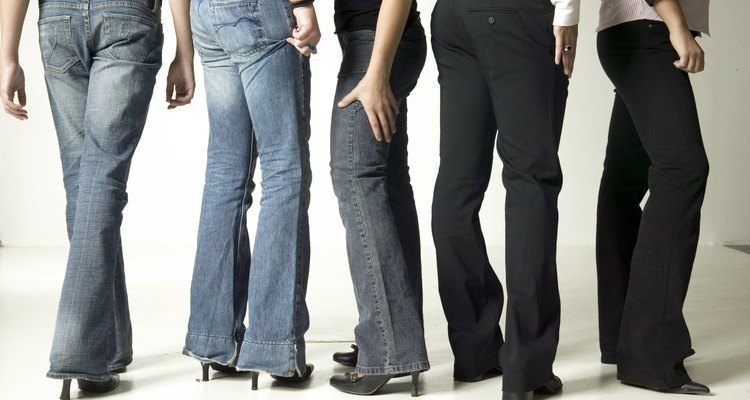 Photodisc/Digital Vision/Getty Images
Denim has been a wardrobe staple for decades; as trends come and go, a wide range of denim styles have enjoyed their time in the spotlight. However, bootcut jeans have consistently remained a go-to favorite for women of all ages. Bootcut jeans are slim-fitting in the thigh area, but widen slightly below the knee. The versatile style looks great on most body types, and can be worn easily with many different types of shoes.
Keep It Cute With Flats
Just about any style of flat shoes can be worn with a pair of bootcut jeans. Whether you prefer loafers, ballet flats, moccasins, smoking slippers or another style, make sure your jeans are tailored to an appropriate length. Menswear-inspired flat shoes, like oxfords or brogue shoes, might appeal to fashion-forward denim lovers. A bold or bright pair of pointy-toed flats can also make a solid fashion statement poking out from under bootcut jeans. Or, if you like to be more conservative with your footwear choices, pick a great neutral pair that complements the tone of your denim -- think beige with light-wash jeans or black with dark denim.
All About Active
If you'll be running around doing errands all day or know you'll be on your feet for long periods of time, consider wearing a cute pair of tennis shoes or canvas slip-on shoes with your bootcut jeans. Many trendy fashion companies as well as high-end designers produce comfortable and practical tennis and athletic-inspired shoes in a multitude of different colors and patterns. Perfect for an active lifestyle, a stylish pair of tennis or slip-on shoes can really make a look -- just be sure to wear a well-fitting shirt to avoid looking sloppy.
Made for Boots
While it likely goes without saying, bootcut jeans work exceptionally well with most boot styles. The cut of the jeans -- slightly wider below the knee -- makes it possible to wear boots with a tall shaft underneath your denim without creating annoying bulk. If your jeans are on the longer side, pair them with some heeled or wedge boots; if your jeans are tailored to be worn with flats, a pair of flat boots works equally as well.
Step It Up
If you'd like to take your casual look up a notch, wear a longer pair of bootcut jeans with some high heels or wedges. To take full advantage of the leg lengthening benefits this style offers, your jeans should break an inch or so above the ground. In the warmer months, wedge espadrilles or high-heel sandals look terrific with bootcut jeans and a light, summery top. In the fall and winter, pair your jeans with some pumps or closed-toe wedges, and complete the look with a classic blazer.
References
Writer Bio
Katherine Mitt has been contributing to online publications since 2009, focusing primarily on fashion and style topics. She holds a B.A. in English from a small liberal arts school.
Photo Credits
Photodisc/Digital Vision/Getty Images