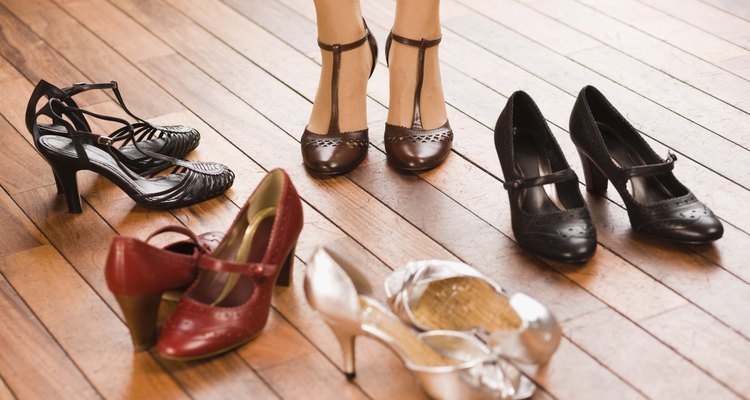 Jupiterimages/Polka Dot/Getty Images
High heels are a staple among women for many reasons. Not only are these types of shoes versatile with most outfits, but they offer many benefits anyone can appreciate. Whether you want to gain a few inches in height or look thinner, high-heel shoes can provide solutions. Still, heels carry a bad reputation for causing injury after long-term use. Before you give up on them entirely, consider all the benefits of high-heel shoes and how you can tweak your lifestyle to help prevent bodily harm.
Taller Appearance
High heel shoes offer height solutions if you want to be taller. Whether you want to be one or six inches taller, a variety of shoes with different heel heights can give you the boost you need. Heels instantly make you taller while making your legs look longer, too.
Slimmer Physique
This type of footwear is best-known for helping women reach new heights. Little may you know, however, that your favorite pair of heels may also give you a slimmer physique. When you wear tall shoes, your body shape responds by arching the back. Your backside may stick out while your chest presses forward. The contrast creates an illusion of a smaller waist.
Works Leg Muscles
Heels can make your entire body look slimmer. This is especially the case in the legs. Depending on the heel height you choose, your calves must compensate for the changes and adjust to the shoes. As a result, the calves may tighten as you walk. Overtime, you may notice less fat in the calves and more muscle.
Boosts Confidence
While heels can positively alter your appearance, perhaps nothing is more important than the self-confidence good footwear offers. If you're petite, heels can make you feel more authoritative, especially among a tall group. Heel shoes also give you the freedom to change outfits without lugging along several changes in footwear. You will be confident knowing your shoes can carry you stylishly through your job, as well as casual after-hours events.
Considerations
High-heel shoes provide numerous benefits that some women simply can't live without. However, constantly moving around at a steep angle can do some damage if you're not careful. Try not to wear heels when at home, and slip them off underneath your desk at work, if possible. To compensate for the abuse, the American Orthopaedic Foot and Ankle Society recommends daily exercises to help flex your feet. This can potentially reduce damage to your heels, toes, ankles and back.
References
Writer Bio
Kristeen Cherney began writing healthy lifestyle and education articles in 2008. Since then, her work has appeared in various online publications, including Healthline.com, Ideallhealth.com and FindCollegeInfo.com. Cherney holds a Bachelor of Arts in communication from Florida Gulf Coast University and is currently pursuing a Master of Arts in English.
Photo Credits
Jupiterimages/Polka Dot/Getty Images