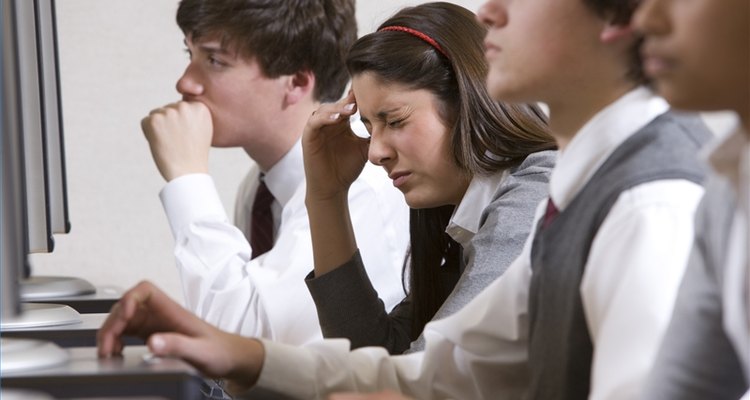 Wearing a school uniform that makes you look like everyone else might seem like a bad thing. However, there are things you can do to look good anyway. Looking good isn't so much about what you wear, but how you wear it.
Make sure that all pieces of your uniform fit correctly. If they are too big or too small, you won't look your best.
Accessorize your outfit as allowed by your school. Wear makeup to bring out the color of your eyes, hair or uniform. Add cute shoes if you can. If you are a guy, keep your eyebrows trimmed, your skin clear and your fingernails clean and short.
Update your hairstyle. When you see someone, usually the first thing they look at is your face and hair, so make sure these look great. Girls can wear cute hair accessories to brighten their look. Guys should make an effort to style their hair in the morning, rather than just going to school with bed head.
Learn how to walk with confidence. Keep your back straight, gently swing your arms and smile at everyone you see. Try not to mess with your clothes. If you are always adjusting your clothing, it will seem like you aren't comfortable.
Remember that since people can't judge you because of your clothes, you have a greater opportunity to let others see what kind of person you are. Try not to think so much about your uniform, but be proud of it. Let your personality be your best accessory; wear it with confidence and you'll look great.
Writer Bio
This article was written by the CareerTrend team, copy edited and fact checked through a multi-point auditing system, in efforts to ensure our readers only receive the best information. To submit your questions or ideas, or to simply learn more about CareerTrend, contact us [here](http://careertrend.com/about-us).