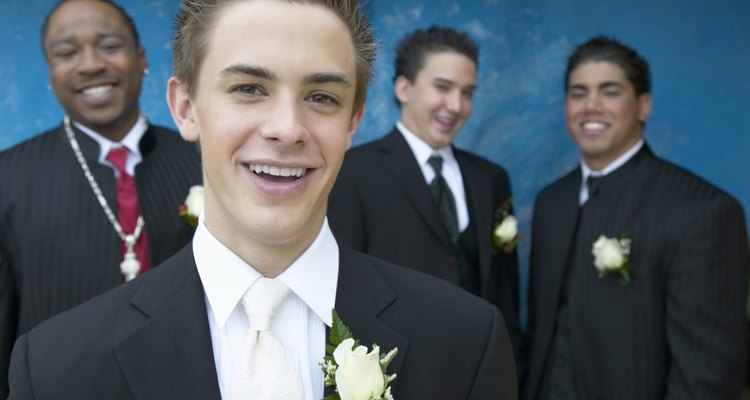 Digital Vision./Photodisc/Getty Images
The Sadie Hawkins Dance originated in the November 5, 1937 Li'l Abner comic strip. In the comic, Sadie Hawkins was a homely girl whose father was concerned about her marriage prospects. To increase his daughter's odds of finding a husband, he declared an annual Sadie Hawkins Day where girls would pursue the town's single men during a foot race. In real life, the tradition was reinterpreted as a dance where girls would ask out the boys. Today, some high schools and colleges have a Sadie Hawkins Dance which cause some boys to not only worry about getting asked to the dance, but also what to wear.
Tuxedo
A tuxedo is worn at black-tie affairs and typically consists of a black jacket in a wooven wool material, a notch or peak lapel in a fabric that contrasts with the jacket, matching black pants with a narrow, vertical strip of black ribbon on the side of each pant leg, a white tuxedo shirt with contrasting button covers, a black silk bow-tie and cummerbund and black shoes. Add a youthful touch to the classic tuxedo look by wearing a printed or colorful bow tie and matching cummerbund. Also, you can swap out your cummerbund for a vest. However, tuxedos are typically not the norm at Sadie Hawkins dances since most schools only have one formal or black-tie dance a year which tends to be prom rather than the Sadie Hawkins dance. If you are unsure whether a tuxedo is too formal for the dance, look up pictures of last year's dance in a school yearbook or on an online social networking site or consult with a peer who attended last year's dance.
Suit Looks
The classic suit, also known as a business suit, is another formal wardrobe option for guys. A 2-piece suit outfit consists of a suit jacket, trousers, a dress shirt, a tie and dress shoes. A 3-piece suit incorporates a vest in typically the same fabric and color as the suit jacket and trousers. Choose a single-breasted blazer over a double-breated blazer for a more contemporary look. You can personalize your suit look by choosing a colored or print shirt and a coordinating striped or patterned tie. Experiment with pocket squares, cuff links and ties of varying lengths and widths to show off your personal style. A modern, less formal way to wear a classic suit is to forego the tie and unbutton the dress shirt's top button.
Smart Casual Jacket Looks
Wear khaki pants, a dress shirt, a navy sport coat, brown leather shoes and a tie for a classic look that is less formal and more youthful than a suit. For a preppy nautical look, swap your khaki pants for pants in a weathered red hue known as Nantucked Red and wear brown leather boat shoes or loafers. Finish off your look with a striped tie. This look will effortlessly compliment your date's sundress or short dress in a lightweight, summery fabric. If you feel overdressed when you get to the dance, you can always remove your blazer and tie, unbutton your top shirt button and untuck your shirt. Another modern smart casual look consists of tailored dark-wash jeans, a button-down dress shirt, a dark suit jacket and black leather shoes.
Everyday Informal Looks
Some guys choose to dress informally to the Sadie Hawkins dance in the same everyday clothing that they wear to school and on weekends. If it is cold outside, dress in layers such as pants, a long-sleeved shirt, and a sweater. If it still hot and humid outside, then lightweight pants and a polo shirt in a breathable fabric are a good choice. A dance held in your school gym will most likely be less formal than a dance held in a hotel ballroom. Also, read over your school's dress code when preparing for a school function. Clothing with offensive language or images, pants that are excessively baggy or worn too low or items of clothing that may symbolize gang affiliation are frequently prohibited. If you are unsure about your outfit, then check with a school administrator before wearing it to the dance. However, the most important thing to remember when picking an outfit for the dance is to be confident. When you look back on the dance, you will remember whether you had fun with your friends or date, not your outfit.
References
Writer Bio
Lisa S. Kramer is a licensed attorney practicing civil litigation and estates and trusts law in southern Florida. She received her Bachelor of Arts in English from the University of Florida, where she graduated Phi Beta Kappa and cum laude. Kramer earned her Juris Doctor from the University of Florida Levin College of Law.
Photo Credits
Digital Vision./Photodisc/Getty Images