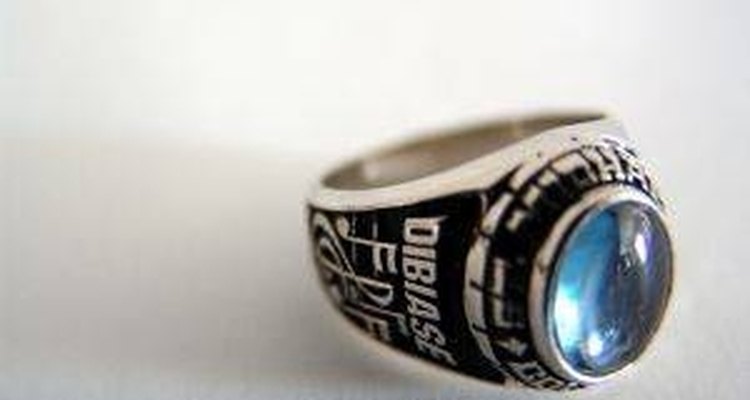 A ring dance is a time-honored tradition, held by many colleges and universities as the last dance of the year. It is the dance where the class rings are given out or worn, to symbolize the hard work of the past four years. A ring dance is usually very formal, and you should dress appropriately, whether you're male or female.
Women
More often than not, the dress code will call for formal dresses. Formal dresses are usually floor length. You could wear a short gown, if it has special details like gems or is made of a special fabric like silk or satin. To show off your school spirit, choose a dress in one of your school's colors. Carry a clutch instead of shoulder bag, as shoulder bags are generally more casual. Wear heels, and get your hair done so that you look great for the formal ring dance.
Men
Men should wear suits. You could do a shirt, tie and jacket combination, or try a tuxedo if you want to be dressed to the nines. Wear formal dress shoes, and you choose a tie in one of the school's colors to show your school pride. Speak to your date beforehand about what colors she is wearing. If she is wearing a dress in one of the school colors, you could wear a tie in the other school color, and be coordinated without matching.
Accessories
The requirements for a ring dance vary according to each school's traditional and heritage. At some schools, the tradition is to wear your ring on a ribbon around your wrist until the ceremony is completed, while another schools might call for you to wear your ring with the inscription facing inward, and turn it right side out after the ceremony. Check beforehand so that you know what the traditions are and can match your accessories accordingly. Ring dances are an important rite of passage for college students, so get dressed up and get ready to be part of the longstanding traditions of your school.
Writer Bio
Kay Ireland specializes in health, fitness and lifestyle topics. She is a support worker in the neonatal intensive care and antepartum units of her local hospital and recently became a certified group fitness instructor.