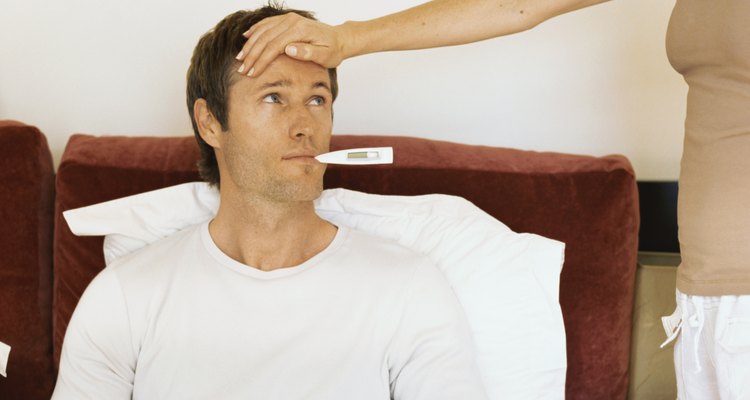 Stockbyte/Stockbyte/Getty Images
If your boyfriend is sick, perhaps you want to do something that shows him how much you care -- and puts a smile on his face, too. Though you can't magically take away his cold or illness, you can surprise him by doing some cute things to let him know that you want him to feel better as quickly as possible.
Homemade Soup
A hearty bowl of soup might help to get your boyfriend back to better health. Head to his kitchen and prepare his favorite homemade soup. Alternatively, If he's got a cold, make a pot of classic chicken noodle soup to clear your boyfriend's stuffy nose. Chicken noodle soup can temporarily speeds up the movement of mucus, possibly helping relieve congestion, notes MayoClinic.com. Prepare some heart-shaped toast to complement his soup. Simply press a heart-shaped cookie cutter into a slice of toasted bread for a romantic touch. Pour the soup into his favorite bowl and place the toast beside it on a meal tray. Hand deliver the soup to his room. Leave the pot on the stove for easy access to get him second helpings.
Solo Games
If your sweetie pie has a cold, flu or other contagious bug, you won't want to get too close. So give him something he can do on his own to pass the time. Perhaps buy some of his favorite sports magazines. Look through them first and make a list of objects for him to find that are inside the magazine -- like numbered jerseys or team caps. To give the game a romantic spin, look for objects that hold significance to your relationship, such as an apple tree to remind him of where you shared your first kiss. Slide the list in the inside cover. Once he finds all the objects on your list, he can enjoy reading the articles. Additionally, make your own jigsaw puzzle for him to complete. Write a romantic message or poem for him on card stock. Cut the card stock into jigsaw puzzle shapes and place them in an envelope. Ask him to put the pieces back together to reveal the message.
Get Well Basket
Get crafty and prepare a basket full of items that will cheer up your sick boyfriend. Find a wicker basket and place some layers of brightly colored tissue paper inside. Keep his interests and favorite things in mind when deciding what to add to the basket. For example, you might want to include tea bags, fruits and perhaps some of his favorite cookies to help him feel better. Toss in a few bags of cough drops and pocket tissue packs if he's using them as well. Include some classic comedy movie DVDs to give him a good laugh and help distract him from his sickness. Finally, tie several "Get Well Soon" balloons to the basket's handle and tuck a sweet note inside from you.
Personalized CD
Your boyfriend might find some soothing sounds comforting while he's sick in bed. Select a group of songs from his favorite music genre and compile a CD for him. Make sure you include some songs that are good for his well being and let him know that brighter days are ahead; think "What a Wonderful World" by Louis Armstrong. The soothing sounds and positive lyrics can help put him in a better frame of mind, which might even hasten his recovery. Alternatively, compile a CD with non-lyrical songs, such as nature sounds. He can lay back and appreciate the calming sounds of a quiet storm or rain forest waterfall. If you're skilled instrumentally or vocally, consider creating an original, silly song that you can make especially for him to include on the CD.
References
Writer Bio
Wannikki Taylor is a professional writer with a Bachelors of Arts in journalism from Temple University. She serves as a children's columnist and covers family entertainment for several print and online publications. She specializes in games, crafts and party planning ideas for kids and their families.
Photo Credits
Stockbyte/Stockbyte/Getty Images