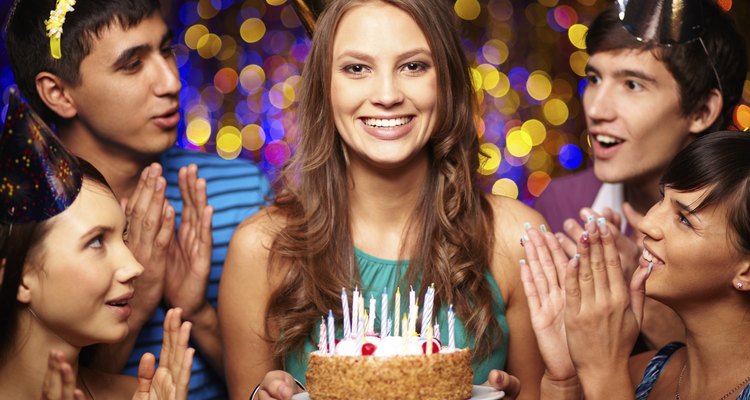 shironosov/iStock/Getty Images
Sweet 16 -- a special day for a teen standing on the threshold of adulthood. This is typically the day that the transition begins, when your best friend can get a driver's license and parents officially allow dating. Your best friend deserves a gift that reflects your love and friendship. From birthday bling to sports memorabilia, you can make this birthday gift memorable.
Personalized Presents
Because 16 is a special birthday, personalized gifts are appropriate for both guys and gals. A silver or gold ID bracelet engraved with a name and birth date, or hearts, doves or other special symbols, is a simple and effective gift for a BFF. Other personalized gifts might include engraved items, such as a key chain, a necklace, a heart pinkie ring or charms for a charm bracelet. If you're artistic, a special handmade picture or magazine cover representing your BFF's 16th birthday in a frame is a memento to keep forever.
Pop Culture Icons
Tickets to your best friend's favorite pop, rock, rap or rhythm and blues star's concert makes a star-filled night of fun for a 16th birthday present. A photo album filled with all her friends' selfies, taken just for her, with a few photo-bombs of you busting into the picture and funny captions make a special birthday keepsake. Wrap up the latest CD, movie poster, book or a gift card to her favorite store and a promise to shop until she drops -- or spends the gift card.
Sports Fans Specials
A jersey from a favorite team or sports star, an autographed player card, a new hockey stick or baseball glove are all special birthday presents. Kick it up a notch by having a personalized jersey made in the team colors, with the birthday boy or girl's name and the number "16" emblazoned across the front. Tickets to the next sports event are the icing on the cake for the serious sports fan.
Sparklingly Special
A new phone or iPad case decorated in glitter and rhinestones and personalized with her name is a spectacular gift for your best friend. A gift certificate for her favorite nail shop lets her put the bling on her nails before her next date. If you've shared everything for years, matching BFF jewelry or charms for your bracelets tell the world that you're still best friends forever.
Sweet 16 Gifts
While pink is the traditional sweet 16 color, don't limit yourself. Sweet 16 gifts range from a simple necklace neatly engraved with "Sweet 16" and a sparkling pink stone, to a sweet 16 pink and black purse, ready to take out on the town. A homemade "Sweets for the Sweet" gift basket filled with your BFF's favorite candies, cookies and other treats shows that you know just what your best friend likes. Add a few sugar cookies decorated with "Sweet 16" -- and don't forget to photo-bomb your friend enjoying the treats.
References
Writer Bio
With degrees in fine and commercial art and Spanish, Ruth de Jauregui is an old-school graphic artist, book designer and published author. De Jauregui authored 50 Fabulous Tomatoes for Your Garden, available as an ebook. She enthusiastically pursues creative and community interests, including gardening, home improvement and social issues.
Photo Credits
shironosov/iStock/Getty Images