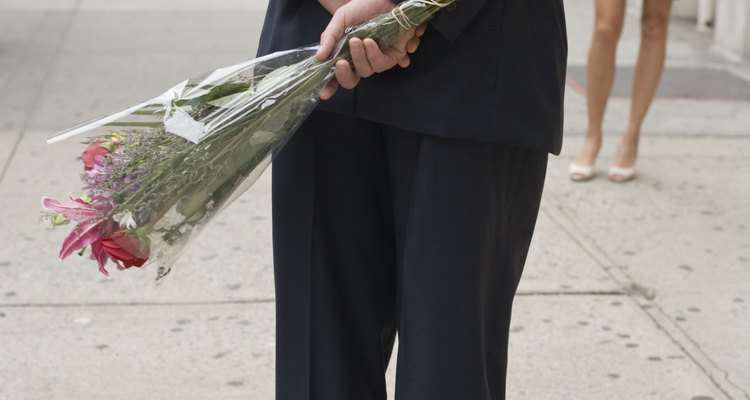 Comstock Images/Comstock/Getty Images
Everyone knows that the one year anniversary marks an important milestone in any relationship. However, who says that you must wait another 365 days before commemorating your significant other again? Modern lovers are now trending towards half year celebrations as well. Finding unique ways to celebrate the year and a half anniversary gives couples a perfect opportunity to show their beloved partners just how they mean to them without having to wait another 12 months.
An Indoor Picnic
An indoor picnic spells romance no matter what season your year and a half anniversary happens to fall on. Send your love a special invitation outlining the time and place. Spread out a blanket right on your living room floor and adorn with some crackers and cheese, wine and chocolate-covered strawberries. Finally, dim the lights, burn some scented candles, play some soft music and you have instant ambiance for a night of romantic celebration.
Show Him You Know Him
Surprise your love with a personalized gift basket containing some of his favorite items. Stock the basket with specially scented soaps, a DVD he's been hoping to see, his unique brand of cigars and favorite wine vintage. The objects themselves don't have to be overly elaborate. Simply showing him that you know even the littlest things that he enjoys will have a huge impact and prove that you always pay attention.
Love Note
Nothing spells romance like a handwritten love note. Take a moment to pen your love a special year and a half anniversary letter straight from your heart to his. Get personal, funny and/or sentimental and let him know exactly how much he means to you and how fortunate you feel to have someone like him in your life. Having your words on paper will warm his heart and give him a special keepsake to treasure forever.
Where it All Began
Plan an evening to revisit some of the things from the beginning of your relationship. Make reservations at the first restaurant you ever dined at, take him to the exact spot you shared your first kiss together or recreate the date you had the first time you told each other, "I love you." Taking a special walk down memory lane will make the year and a half anniversary milestone even more romantic and encourage the two you look forward to what the next six months has in store.
Resources
Writer Bio
Cortney Farmer began her writing career in 2010 after leaving the corporate workforce. Her articles appear on eHow and Answerbag. Farmer has a Bachelor of Science in speech pathology and English from the University of Massachusetts.
Photo Credits
Comstock Images/Comstock/Getty Images