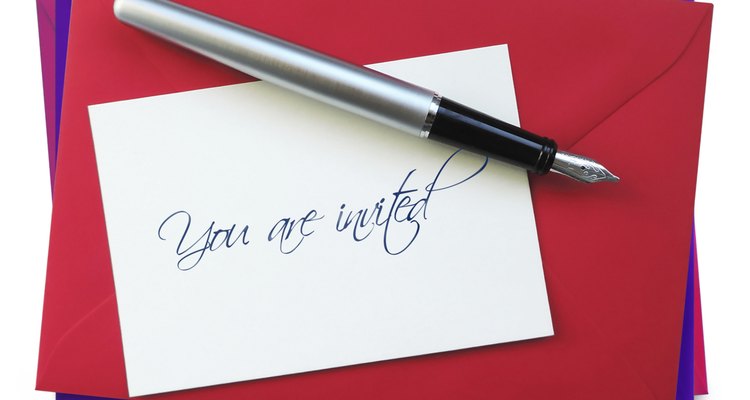 Eivaisla/iStock/Getty Images
Hollywood parties are all about the glitz and glamour of Tinseltown, and your invitations should feel just as special. If you want to make your guests feel like true VIPs, roll out the red carpet with custom party invites. Employing movie themes and wordplay in invitations lets party goers know what to expect, and sets the mood for the festivities to come.
Slogans and Themes
Use a slogan in your invitations to add a bit of creative flair. If you're planning a Hollywood themed birthday party, try the slogan "A Star Was Born" to pay homage to Barbra Streisand's classic 1976 movie. For a more general slogan, try "All That Glitters," "A Star-Studded Soiree," "A Cinematic Celebration" or "Lights, Camera, Party!"
Show Tickets and Awards
Make your invitations look like movie tickets to showcase the Hollywood theme. Write "Admit One" at the top of the invitation, followed by "The Coming Attraction," for example, "Leslie's star-studded birthday" or "Bob's Red Carpet Celebration." Briefly mention what "concessions," aka food and drink, will be served, and list the date and time of the party under the word "Showtime." Alternately, word your invitation to make it sound like a Hollywood award, such as "And the invitation goes to you!" or "The Oscar for best party guest goes to you!"
Hollywood-Themed Wordplay
Have fun with your invitations, and use phrases that point to the Hollywood theme of the party. For example, "We're rolling out the red carpet for Randy and Gina's anniversary" or "You're the star attraction at Lisa's Hollywood extravaganza!" Think of your party like an advertisement for a movie: mention that the Hollywood Reporter gave it five stars, or that it's nominated for a Golden Globe for best party of the year.
Including Relevant Information
While Hollywood party invitations can include plenty of fun wordplay, don't forget to let your guests know the basics, such as what time the party starts and where it's being held. That doesn't mean you still can't have fun with pertinent info: tell them that "show time" is at 8 p.m., and the red carpet rolls out at the party's address. Also, inform them of the dress code, if any. Tell guests to put on their Oscar-worthy best, or if it's a Hollywood costume party, tell them to dress as their favorite stars of the silver screen.
References
Writer Bio
Jessica Taylor has been writing professionally since 2007. She has contributed a number of articles online on topics ranging from fashion to technology to travel. She has a bachelor's degree in English literature from the University of South Florida.
Photo Credits
Eivaisla/iStock/Getty Images