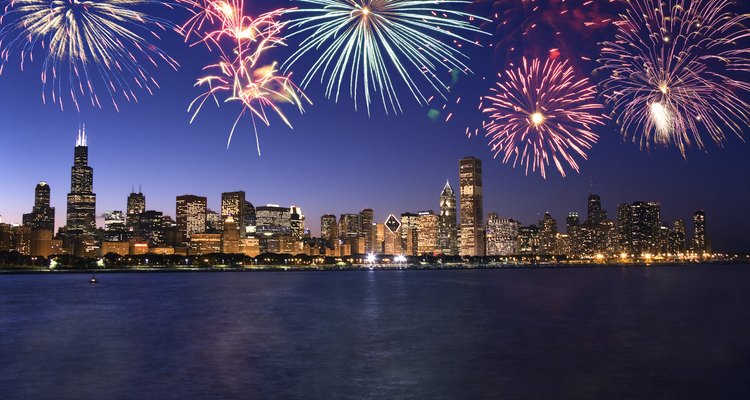 Thinkstock/Comstock/Getty Images
First comes the boom, then heads look upward in hopes of being dazzled by the fiery displays of color -- and if the fireworks wow the audience, the "ooohs" and "ahhs" and applause is heard across the stadium. The effect of the fireworks on the audience, whether at a Fourth of July or New Year's event, a football halftime or the end of a parade, is evoked by more than the beauty and excitement of each bursting display. Like a memorable movie theme, the soundtrack for the fireworks plays a very important supporting role. That music can change one's mood is no secret. Generally for a fireworks show, a soundtrack that evokes happy expectations and excitement works best, but the selection depends on the event.
Celebrating Independence
It goes without saying that the "Star Spangled Banner," the U.S. National Anthem, is the first song Americans associate with Fourth of July fireworks, but there are other patriotic themes that do the job just as well.
For instance, John Philip Sousa's "Stars and Stripes Forever" can invoke the same sense of Americanism. You could also use a military theme like Sousa's "Semper Fidelis" or "Anchors Aweigh," the song of the U.S. Navy, which can be just as heavy on the patriotism. If you really want to surprise patrons, you might play "Hail to the Chief," or if all else fails, "God Bless America."
Classic Excitement
Classical music provides some of the best soundtracks for firework shows. Beethoven's "Ode to Joy" is both uplifting and exciting. The robust "1812 Overture" with its canon-firing climactic finale has played at many a fireworks show since the Boston Pops performed it in 1974 in a Fourth of July concert. Prior to its popularity at July 4 fireworks, Tchaikovsky's classic based on Napoleon's invasion and retreat from Russia was most known in the United States via movie soundtracks, such as the love scene in Woody Allen's "Banana" and a dark adaption in "V for Vendetta." Bring on the excitement, and a "Hi Ho Silver" with the "William Tell Overture" by Gioachino Rossini. The French opera's overture also opened the popular 1950s television series, "The Lone Ranger."
Hollywood Sounds
Some of the greatest contemporary music was composed for Hollywood and makes excellent choices for firework shows. John Williams's theme to the original "Superman" fills audiences with inspiration. The "Batman" theme created by Danny Elfman for Timothy Burton's darker superhero movie, evokes suspense and mystery. Other movie themes include "Jurassic Park," "Requiem for a Dream," or anything by Immediate Music, a company responsible for a good percentage of the captivating music used in movie trailers.
Sporting Songs
If your pyrotechnical display is for a football game half-time or other sports event, include the team's fight song, as performed by their marching band. Or consider the music played by musical greats at fireworks-bursting, laser-light shooting Super Bowl half-time, and play classic rock n' roll by the Who, jazz by Duke Ellington, pop by Michael Jackson and inspirational movie songs from Disney.
References
Writer Bio
Stephen Andrew Baldwin became a freelance writer in Seattle, Wash. after graduating from Western Washington University with a Bachelor of Arts degree in creative writing. Focusing professionally on web copy, Baldwin has been writing professionally for more than two years, and has been published on a number of websites including eHow.com.
Photo Credits
Thinkstock/Comstock/Getty Images