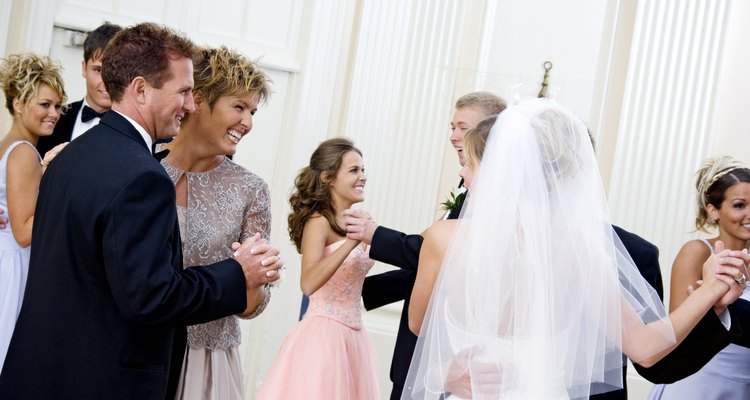 Vstock LLC/VStock/Getty Images
The timeless tradition of the mother-son dance is a way for the groom to honor and pay tribute to his mother on his wedding day. This dance takes place at the reception before the bride dances with her father. What to select for your mother-son dance song may be a bit perplexing. There are thousands of songs to choose from and many teams have never danced together. Put thought into the type of song you would like, then decide what best represents your relationship with each other.
Slow Songs
Go the traditional route with your mother and dance to a slow, sweet song. There are many ballads with lyrics fitting for the bond a mother has with her son. Select a song that is not too long but yet is long enough to take a good couple of twirls around the floor. A mother-son dance song often used is "Somewhere Over the Rainbow" by Israel Kamakawiwo'ole. This tune is a simple arrangement of a classic recorded by a man playing his ukulele. Josh Groban's version of the hymn, "You Lift Me Up" is a lovely slow dance choice as is "What a Wonderful World" by Louis Armstrong. If you would like something from the rhythm-and-blues genre, go with Boyz II Men's "A Song for Mama" or "Mama." Country lovers may opt for Rascal Flatts' "My Wish" or "I Hope You Dance" by Lee Ann Womack.
Up-tempo Songs
Kick things up a notch and try a song that has a faster tempo. A medium or an up-tempo song can make the dance more light-hearted and entertaining for the mother-son team and the people observing it. Try songs such as "Days Like This" by Van Morrison or "You Are the Sunshine of My Life" by Stevie Wonder. Go really upbeat by dancing to Kool and the Gang's "Celebration" or Pharrell's "Happy."
Sentimental Songs
Try a song that bears a lot of meaning to the two of you. It could be a song that was sung to the groom as a child or a song he loved when he was a little boy. Dance to a song that includes his name such as "Hit the Road Jack" to bring back funny memories from long ago. Sentimental songs often played at weddings for mother-son dances include "Teach Your Children" by Crosby, Stills and Nash; and "Stand By Me" by Ben E. King. Reach back into your past for a song that means the most to one or both of you for an unforgettable dance.
Untraditional Songs
Go a little out there and select something uncommon. Try a song people do not usually think about, such as "Sweet Child O' Mine." There are different covers of the Guns n' Roses song, including ones by Cheryl Crow and Taken By Trees. Some mother-son dances have been performed to the song "Rainbow Connection." Try a medley of songs with popular dances from the past and put on a show. Start out with a slow, traditional song, then break into a series of songs with corresponding dances.
References
Writer Bio
Caroline Baldwin, a corporate communications director located in South Carolina, began writing in 1998. Her work has been published in publications across the United States and Canada including Rolling Stone, Boating Life, Waterski and Wakeboarding magazines. She holds a Bachelor of Arts in communication studies from The College of Charleston.
Photo Credits
Vstock LLC/VStock/Getty Images