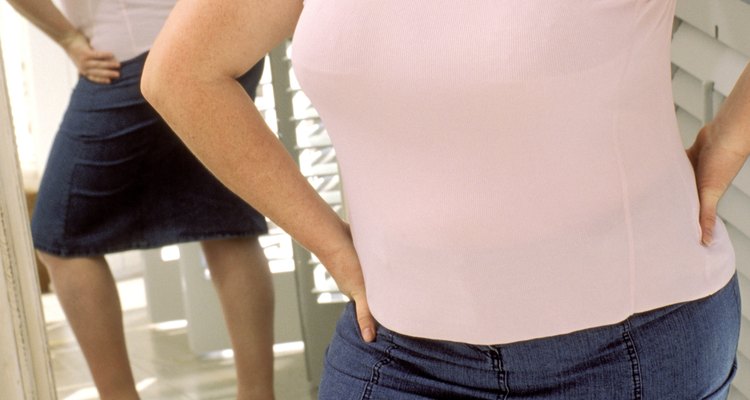 Pixland/Pixland/Getty Images
Obesity can bring its challenges in a world where fashion models are a size two. In fact, many overweight women are under the misconception that little to no clothing is available to fit their curves. This may prompt you to wear clothes that are all wrong for your body. Before you commit any more fashion faux pas, learn what types of clothes to stay away from and adapt sensible tips tailored to your body type.
Baggy Clothes
When you have extra weight, your first instinct may be to hide it. Baggy clothes are not only a fashion mishap, but they also tend to put more weight on your body. This illusion is magnified if you wear baggy clothes in bright colors. Choose clothes tailored to your body that have clean lines at your smallest parts. For example, if you have small shoulders, choose V-neck or boat-neck tees.
Small Sizes
If you are obese, you may already be in the middle of a weight-loss plan. In your mind, it seems silly to waste money on more clothes so you might attempt to fit into your old clothing that is too small. Wearing too-small clothing draws attention to any bulges you have, making you look bigger. If money is of concern, choose a few basic separates that you can wear with multiple outfits until you achieve your desired weight.
The Wrong Colors
Black is a favorite color choice because of its slimming effects. However, if people start to wonder if you're in mourning, you may need to take a break from black clothing. This can be frightening if you've relied on black as a way to blend in, but you should realize numerous other colors are available that look fabulous on women of all shapes and sizes. Steer clear of pastels and patterns, and instead opt for jewel tones and other dark solids that complement your skin tone.
Flat Shoes
For many, comfort and style don't seem to go hand in hand. This prompts women to wear sneakers with jeans, and flats with just about every other outfit. Flat shoes make the legs look shorter, thereby making you appear wider. Unless you're working out, skip the sneakers and try a stylish wedge or heel instead. Extra height elongates the body, providing a slim appearance throughout.
Tips and Considerations
Obesity is a medical condition that sometimes affects your fashion choices, too. No matter what your size, it is imperative to know your body and to dress it with love. When you wear the right clothing, other people will notice your fashion sense over your size. If you need assistance, consider hiring a professional stylist to help you look your best.
References
Writer Bio
Kristeen Cherney began writing healthy lifestyle and education articles in 2008. Since then, her work has appeared in various online publications, including Healthline.com, Ideallhealth.com and FindCollegeInfo.com. Cherney holds a Bachelor of Arts in communication from Florida Gulf Coast University and is currently pursuing a Master of Arts in English.
Photo Credits
Pixland/Pixland/Getty Images