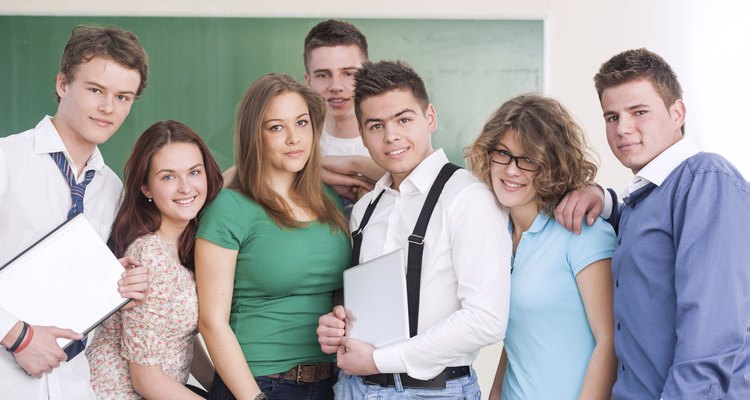 Zurijeta/iStock/Getty Images
Although you don't see them every day, suspenders are still in vogue with some men. Available in two varieties -- buttoned and clip-on -- suspenders usually cost about the same as a belt and are just as simple to wear. This once utilitarian accessory is available in a rainbow of colors and patterns to add a touch of flair to an otherwise conservative outfit.
Attaching Button Suspenders
Place pants that have suspender buttons on a flat surface front side up and find the small buttons on the inside of the waistband. Look for one pair in the center back and two pairs on the front inner band, one on each side of the fly.
With the right side of the suspenders facing downward, attach the back strap of the suspenders to the buttons on the back waistband.
Bring the front straps up and over to the front buttons and attach.
Put on the pants and pull up the suspenders, adjusting the metal sliders on each strap to alter the fit.
Attaching Clip-On Suspenders
Lay the pants on a flat surface face up with the waistband open.
Use a fingernail or fingertip to flip the back clasp of the suspenders open. Position the clip over the center back of the pants with the right side of the suspenders facing downward. Close the clip over the top of the back waistband.
Grab the front straps and open the clips. Position these clips at the halfway point between the waistband fold and fly of the trouser. Secure the clasp.
Put on the pants and suspenders, moving the metal sliders to adjust the fit.
References
Writer Bio
Gigi Starr is a freelance fashion writer. She previously served as the blog editor for a major online fashion blog and has more than a decade of backstage experience in the beauty and high fashion industries. She has worked for businesses like an internationally renowned theatrical touring company and events such as the Mercedes-Benz N.Y.C. Fashion Week.
Photo Credits
Zurijeta/iStock/Getty Images