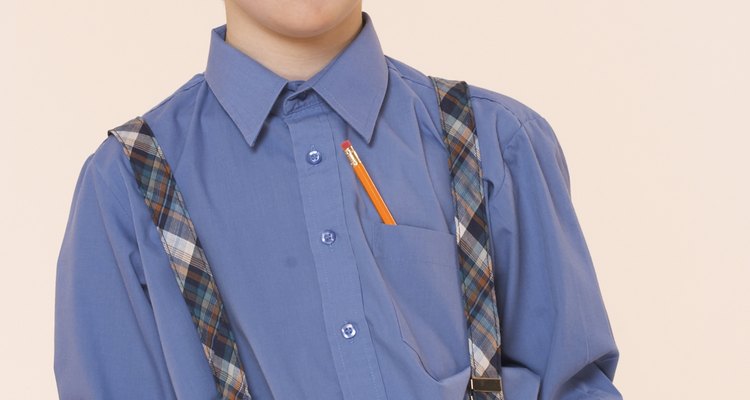 Jupiterimages/Photos.com/Getty Images
Clip-on suspenders are designed to clip onto almost any pants and fit almost anybody. Suspenders are a comfortable alternative to a belt. If you want to liven up your outfit, choose plaid or striped suspenders that match your pants. Wear brightly colored suspenders with blue jeans. Suspenders are especially cute for a little boy, and they will help hold up a pair of pants that wants to slide down under his tummy.
Clip the center clip of the suspenders to the center back of the waistband of the pants. It is easiest to do this before you put on the pants. Be sure the right side of the suspenders is on the same side as the outside of the pants.
Flip the other two straps over your shoulders, making sure they are not twisted.
Lift the flap to release the adjustment mechanism on both straps.
Clip the remaining two clasps to the waist of the pants with the clasps centered between the fly and the side seam on each side.
Raise the clasps on each strap up until the suspenders fit comfortably and snugly.
Press down the levers on the adjustment mechanisms to hold them in place.
Writer Bio
Camela Bryan's first published article appeared in "Welcome Home" magazine in 1993. She wrote and published SAT preparation worksheets and is also a professional seamstress who has worked for a children's theater as a costume designer and in her own heirloom-sewing business. Bryan has a Bachelor of Science in chemical engineering from the University of Florida.
Photo Credits
Jupiterimages/Photos.com/Getty Images