Photos.com/AbleStock.com/Getty Images
A candy bar—or candy buffet, as it's sometimes called—can be a great addition to your wedding reception. It gives your guests a fun activity and eliminates the need for individual favors. In addition, it's yet another place to show off your wedding style, whether through coordinated colors or through vintage-style candy and containers. Though many caterers charge hundreds or thousands of dollars for a candy bar, it can be created for much less with a little searching online.
Choose and Purchase Candy
Decide on the types of candy you want to offer at your candy bar. Choose candy that complements the theme of your wedding; if you have a definite color scheme—such as green and brown—choose candies in those colors, such as chocolate malt balls, chocolate mints, green jelly beans, green rock candy, or brown M&Ms. If you are planning a vintage-themed wedding, choose old-fashioned candies in retro packaging.
Purchase candy to suit your theme or colors. Though buying large quantities of candy can be expensive in person at a store, much more reasonable sources exist online. Online bulk candy websites offer wholesale pricing, and some offer free shipping when you purchase a certain amount. Don't forget discount bulk stores, which may offer bulk quantities at lower prices. Timing can also help with expense; if your wedding takes place in winter or early spring, try buying candy immediately after Halloween when prices drop dramatically. As long as the candy is wrapped, it will stay fresh until your wedding.
Ensure that you have enough candy for each of your guests to enjoy. To estimate how much you'll need, find a small bag, about the same size you plan to give to your guests, and fill it with different kinds of candy. Weigh the bag, and you'll have the average amount you will need per guests. About 1/4 pound is a conservative amount; for a more extravagant offering, about one pound per guest is a good estimate, according to The Inspired Bride.
Purchase Candy Containers and Bags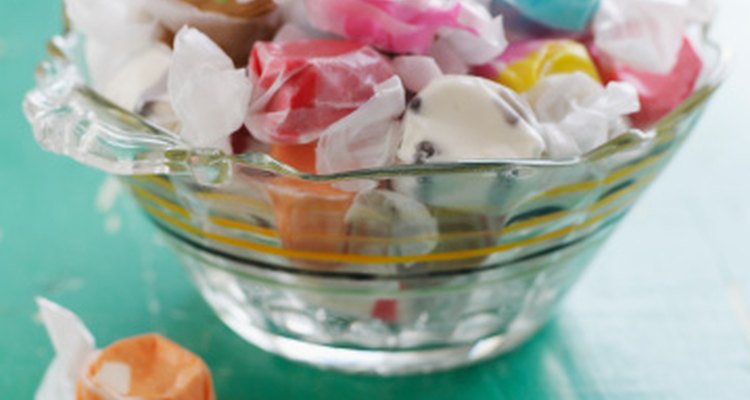 Alexandra Grablewski/Lifesize/Getty Images
Find and purchase containers to display the candy. For a beautiful candy bar, you'll need a variety of vessels to display your sweets. Apothecary jars are a popular choice; these are available in many thrift stores, discount home decorating shops, and online. You may also find them at craft stores; these stores often have coupons in the mail or half-off sales, so keep an eye out for deals before buying your containers. For a more modern look, select plain glass cylinders and bowls, which are sleek and elegant. They are often less expensive as well.
Keep your candy in mind when purchasing containers. A very large jar will take a lot of small candies to fill and therefore is probably better for something bulky such as peppermint patties or gumballs. Candy sticks stand out in short cylinders, rock candy sparkles in tall glasses, and a shallow tray of M&Ms or jelly beans offers color without requiring a large quantity.
Small bags are essential to give your guests a way to carry their treats home. Paper bags are prone to tearing and can make a mess; choose fabric or cellophane for a stronger option. Colorful or clear cellophane bags can be purchased inexpensively in any craft store, especially around the holidays. Muslin drawstring bags, which are a rustic option well-suited for vintage weddings, are available online. For an added detail, stamp muslin bags with your initials, wedding date, or images related to your wedding.
Assemble the Candy Bar
Choose a table to use for your candy bar. A folding table provides an easily-movable base for a candy buffet. A table provided by the reception venue works just as well. Cover the table in an inexpensive fabric tablecloth, available from discount home stores or online. A plain, solid-colored tablecloth provides an elegant base without cluttering the look of the buffet. To add depth and visual interest, place boxes or sturdy Tupperware containers beneath the tablecloth; this will create different levels on which to place your containers, and is especially helpful if most of your containers are the same height.
Arrange the containers in an aesthetically pleasing way. Tall jars and cylinders should go toward the back of the table; place flat trays and shallow dishes toward the front. If the table looks sparse or empty, fill in spaces with decorations such as flowers, photos of the couple, or leftover centerpieces. Candles are not recommended, as they can melt the candy or singe guests' sleeves as they reach over them.
Place scoops in dishes of candy. Scoops are not necessary for larger, wrapped candies, but are essential for small candies such as M&Ms or jelly beans. They are available at any craft store, as well as many department stores. In addition, many online candy sources offer scoops as well.
For a thoughtful touch, make paper tags indicating what type and flavor of candy is in each jar. Print them from the computer in a coordinating font, or write them carefully with a colored pen or marker. Lean tags up against the jars, or tie them around the jars with ribbon. Place the candy bags at one end of the table so guests can easily reach them.
References
Writer Bio
Kate Moore is a professional graphic designer and copywriter working out of Columbia, Mo. She has been writing and editing for over 10 years. Her work has been published in two anthologies of poetry and she has edited several textbooks. She holds a Bachelor of Fine Arts from Truman State University in visual communications and fiber arts.
Photo Credits
Photos.com/AbleStock.com/Getty Images