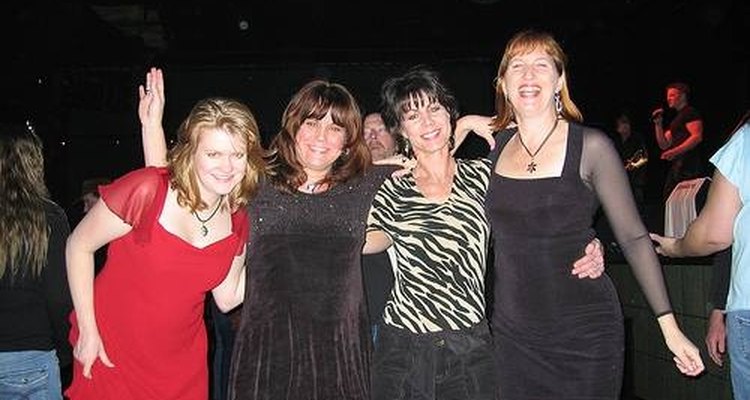 Host a girls' night out party for your closest girlfriends. These "girls only" parties are a fun way to strengthen your friendships. Bond over juicy gossip and the never-been-told secrets that come out during these parties. Pamper your guests with party favors that are inexpensive and fitting for a girls' night out.
Cosmetics Goodie Bag
Make goodie bags of cosmetics and accessories as favors for your guests. This is a thoughtful and inexpensive favor that will be useful for your guests. Purchase clear goodie bags from a party decorations store. At your local drugstore, purchase inexpensive nail polish in stylish colors and packs of nail files. Look for colorful hair ties and lip-glosses. Another option is to include cosmetic samples in goodie bags. In each bag, include a nail polish bottle, nail file, hair ties and a lip gloss. Tie each bag with a colorful ribbon and write the guest's name on it.
Chocolate and Candy Cones
Many women love candy, and your friends will appreciate a sweet favor. Create a stylish paper cone to fill with chocolates and other candies. This handmade party favor is inexpensive to make. To do this, roll an 8-½ inch by 11-inch piece of vellum from the bottom corner until it creates a cone. Affix glue the outer flap. Fill the cone with small chocolate candies such as Hershey Kisses, M&Ms or fun-size chocolate bars. For guests who don't like chocolate, fill cones with jellybeans or skittles. Decorate each cone by tying it with colored ribbon. Fill a large punch bowl with small candies, and stick the cones inside. Make a small banner that says, "Enjoy" to encourage your friends to take a favor.
Group Photo
Give each guest a framed group photo of all of the girls. This favor is a meaningful reminder of your fun times together. Choose a group photo that includes all of your friends. Try to find a photo that flatters everyone because you want every guest to be happy with the photo. Purchase inexpensive, solid-colored frames. You can make multiple prints of the photo online to save time and money. Stores such as WalMart offer this service (link located in Resources section). Place the photos inside frames. To add a personal touch, use dimensional paint (also known as "puff" paint) to write guests' names on the frames.
References
Writer Bio
Yu Qing is a freelance writer based in California. She has more than four years' experience and has been published in various print and and online publications She graduated from the University of California at Berkeley with a Bachelor of Arts in English.