Ever wanted a certain band's patch to sew on your jacket but can't find one? There's a very simple solution for this: make your own! It's easy, inexpenisve, and adds a unique flair to any garment.
Items you will need
iron-on transfer printer paper
denim material (both supplies can be attained at Wal-Mart or Office Depot)
a clothing iron
the internet (I assume you have that)
Step 1
Do an image search on the internet for a band you want to make a patch for. For example, if I wanted to make an Ausgang patch, I'd go to google, images, and search for "Ausgang logo". Save any images to your PC.
Step 2
Open any images in an image-editing program. Resize them to the size you want your patch to be. You can also place a few "patches" at the same time on one sheet of paper, to save space. (Don't make your images as small as I did in the picture. They turned out REALLY tiny)
Step 3
Once you're satisfied with how the images look on screen, print them out on iron-on transfer paper. (make sure to follow the instructions that come with it)
Step 4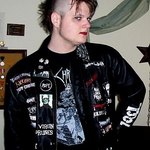 Cut out your images individually; that way you can place them wherever you want. Peel off the back of the transfer paper, then place your cut-out images on a piece of denim material (you can also buy denim made-for-patches material at Wal-Mart and other stores). Following the instructions for the iron-on paper, iron your images onto the denim.
Once that's done, you can cut the denim material into square patches. Voila!
Tips
If you want to attach your patches to a denim, cotton, or polyester garment, you can iron them directly to it. You also can sew your patches on, but be sure to use a leather needle for leather jackets. Safety pinning patches on garments can also be a quick and stylish way to attach patches.
Warnings
DO NOT try ironing on leather. It will damage the material and sometimes even cause the leather to melt. Don't throw away the white wax-paper like sheet that comes with iron-on paper. It's needed to prevent fabric from ironing itself onto what ever's under it. Don't try sewing leather with a sewing machine unless you're absolutely sure it can handle it.