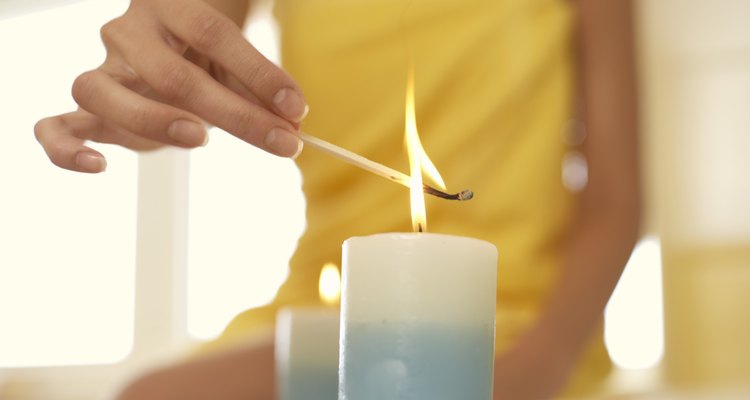 Jupiterimages/Creatas/Getty Images
When you have busy work lives, children and extracurricular activities, it's easy for romance to fall by the wayside in your relationship. A weekend getaway to a spa would be a rejuvenating way for you and your sweetheart to get back on the romantic track. If a spa getaway is not possible to squeeze into your busy schedule, owever, pick up some massage oils and candles to create a romantic spa night for two at home.
Choose your spa space. Decide on the best area to set up your spa experience, based on the room you have in your house. A master bedroom with an en-suite bathroom would be ideal, especially if you have a deep whirlpool tub. However, you can also use your living room. If you have a lot of privacy from neighbors and an outdoor hot tub, perhaps you could create an outdoor spa experience right on your deck.
Plan your spa services. Give your sweetie options for your at-home spa experience. If you plan on giving your partner a sensual massage, purchase scented body oils that you can warm up to make the experience even better. Plan a relaxing bath for the two of you with skin softening bath oils. Purchase new plush spa robes for you and your partner to relax in during your spa night.
Set the mood. Place candles all around your spa set-up to create a romantic mood. For safety, consider using flameless LED candles, which look very much like the real thing. You can use as many as you like without worrying about setting your house ablaze. Place plush blankets and throw pillows on the floor if you are going to be doing your massages on the floor. Sprinkle silk rose petals on your bed if you are setting up your spa experience in your bedroom. Make a playlist of romantic songs you know your partner loves to play in the background.
Set up indulgent and romantic treats. Make chocolate-covered strawberries, which you can feed to your sweetie during your romantic spa night. Bring home gourmet chocolate truffles and serve them on a silver platter. Put berries such as raspberries or blackberries in champagne before pouring your favorite champagne. You could also set up a chocolate fondue for two if you have a small fondue pot. Cut up fresh fruit and pound cake to dip into the melted chocolate.
Writer Bio
Based in Los Angeles, Zora Hughes has been writing travel, parenting, cooking and relationship articles since 2010. Her work includes writing city profiles for Groupon. She also writes screenplays and won the S. Randolph Playwriting Award in 2004. She holds a Bachelor of Arts in television writing/producing and a Master of Arts Management in entertainment media management, both from Columbia College.
Photo Credits
Jupiterimages/Creatas/Getty Images