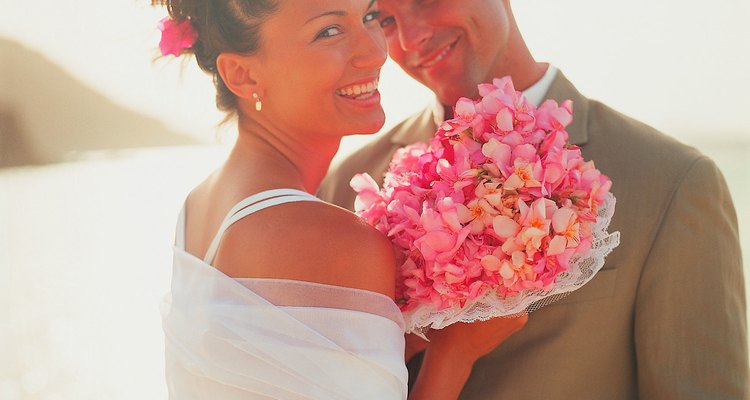 Stockbyte/Stockbyte/Getty Images
Your wedding night should feel special, joyous and romantic and, if you're a person of faith, sacred. Though weddings often involve a great deal of expense, planning and work, it is important to set aside your wedding night as a special romantic reprieve just for you and your spouse. Prioritize your festivities, keep one another in mind and set some healthy boundaries in order to enjoy your special night and make it memorable.
Stress Reduction and Time Management
Wedding preparations and celebrations, while exciting, are often stressful and tiring for couples, which can be a major turn-off in the bedroom, even on your wedding night. Relaxation and stress reduction contribute to healthier sexual relationships, so the best prescription for romance could be to make your wedding night a leisurely one. A morning or early afternoon wedding will give you time to relax together before things get steamy in the bedroom. Alternately, consider paying for a late check-out at your hotel the next morning so that you and your new spouse can sleep-in and take your time together in the morning.
Carve out a Nest
Your wedding night accommodations should be a special place, a cozy nest for you and your love, where you can enjoy one another without ringing phones, text messages, computers and other interruptions. Consider staying in a separate hotel from friends and family members who are in town for the big day. Call the front desk and tell them to hold your calls, turn your cell phones off and leave your computers at home. Order a bottle of champagne with room service, bring cozy soft robes and cuddle up together without any interruptions from the outside world.
Make things Playful
Healthy romance and sexuality has an element of play to it. Incorporate lightheartedness into your romantic wedding night by wearing new lingerie, trying a new toy, massaging one another or sitting in the hot tub together. Laugh, watch funny movies and remember all the things you love about your partner. Your sex life should be joyful, so if you keep things light and fun on your wedding night, your marriage will be off to a good start in the intimacy department.
Keep Perspective
You and your spouse have a lifetime of intimate moments and evenings ahead of you, so take the wedding-night pressure off of one another. Savor the romance, whether it leads to an evening of exciting sex or not. Especially if your wedding night will be your first introduction to sex, expect to work up to intercourse and learn as you go. You do not need to know everything there is to know about sex before your wedding night. You and your spouse will share and discover things together over time. If you shared a pre-marital sexual relationship together, remember that your prior sexual encounters will inform your experience together on your wedding night and that you won't suddenly be a barracuda in bed if you're normally more easy-going and vice versa.
Writer Bio
Anne Kinsey is a Certified Trauma Recovery Coach and missionary, residing in rural North Carolina. She is the founder of Love Powered Life, a nonprofit organization with the mission of creating loving community for trafficking survivors and their families. Anne has enjoyed writing for publications like Working Mother, the San Francisco Chronicle, the Houston Chronicle, Bizfluent and Career Trend. She resides in rural North Carolina with her husband, three children and a house full of furry friends.
Photo Credits
Stockbyte/Stockbyte/Getty Images