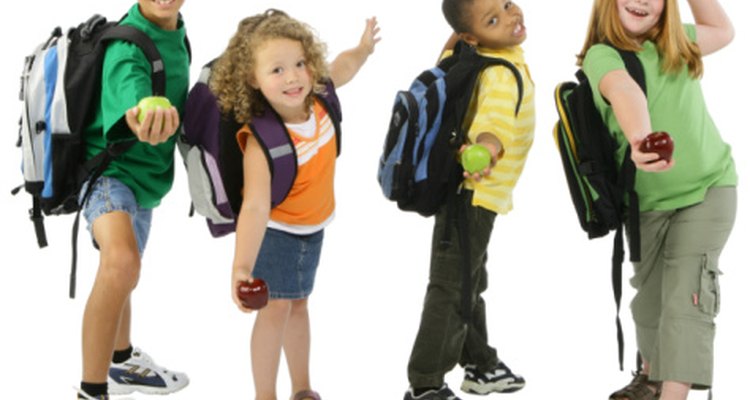 PhotoObjects.net/PhotoObjects.net/Getty Images
As nervous as you may be for your little one to start kindergarten, your child is possibly more nervous about the new experience of attending school. Presenting your child with a gift will help the child associate kindergarten with exciting new things, and it will help you show your support. Present your child with a gift the week before kindergarten starts to help build anticipation of this exciting transition.
Backpack
A new backpack will make any child feel like a "big kid," and this gift is something she can use for several school years to come. Rather than presenting her with a surprise gift, explain that you want to buy her a backpack as a gift. At the store, let her choose any bag she wants as long as it fits into your budget. Having the backpack she wants will help her feel secure and confident when she walks into school for the first day.
Books
Story books are reassuring for children who don't know what to expect in school. There's a wide variety of children's story books about starting kindergarten, such as "Off to Kindergarten" by Tony Johnston or "Miss Bindergaten Gets Ready for Kindergarten" by Joseph Slate. These books reassure children by showing them that kindergarten is enjoyable from different perspectives. Buy a new kindergartner four or five books about starting kindergarten, then wrap them all separately so he'll have more gifts to open.
Alphabet Gifts
One of the most valuable skills children will learn in kindergarten is how to write their own names. Give your favorite soon-to-be kindergartner a boost by giving her a gift displaying her own name. Visit a craft store to buy wooden letters, then paint and package the letters in a large box so she can arrange them on a shelf or window sill. You may also contact a seamstress to order a tote bag or blanket that displays the child's full name. The more exposure she has to her full first and last names, the easier it will be for her to learn to write them.
Art Displays
Show children you have confidence that they're going to excel in school by giving a new kindergartner items to display her work. Buy a large photo frame that has a title such as "My Art Work," or get the child's name engraved on a simple frame. You may also buy a scrapbook that can hold his best art and school assignments. Once he's put some papers into his book, display it in your home so he knows you're proud of his accomplishments.
Resources
Writer Bio
Cooking, travel and parenting are three of Kathryn Walsh's passions. She makes chicken nuggets during days nannying, whips up vegetarian feasts at night and road trips on weekends. Her work has appeared to The Syracuse Post-Standard and insider magazine. Walsh received a master's degree in journalism from Syracuse University.
Photo Credits
PhotoObjects.net/PhotoObjects.net/Getty Images