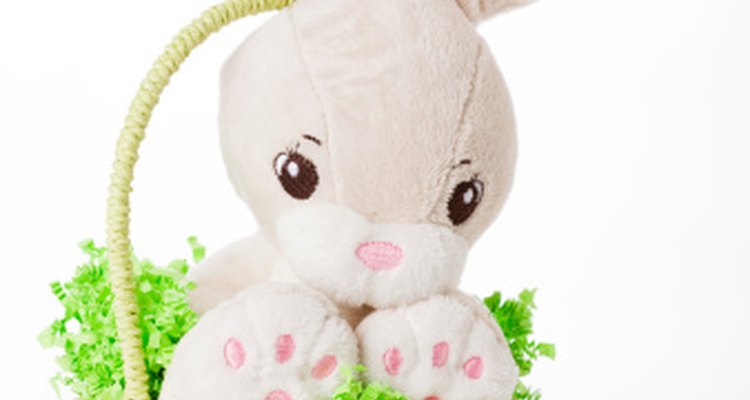 Tooga/Photodisc/Getty Images
Easter is an important holiday in the Christian faith, and is also used to celebrate the beginning of spring. If you want to commemorate the holiday by giving your child an Easter present, these gifts would be greatly appreciated by children between the ages of 7 and 9.
Books
If your family celebrates Easter in remembrance of the resurrection of Christ, present your child with reading materials that will explain The Crucifixion and Resurrection in an age-appropriate way. Selections like "The Easter Story" by Brian Wildsmith or Marti Beuschlein's "Early Easter Morning" tell the story of the first Easter, along with pictures that will make the account more understandable for your child. Including a children's Bible with the Easter book adds to your child's collection of reading resources, and by this age, your child may be able to read Bible passages concerning Easter, and refer back to the books you've given then for a better understanding of the first Easter's events. Present the gift to your child in a pastel-colored gift bag or with seasonal items like chocolate Easter eggs for presentation and an extra treat.
Easter Basket
Most kids between 7 and 9 think of Easter baskets as "little kid" gifts, so add things to the basket to make it appropriate for your child's age and hobbies. If your daughter's interested in gardening, fill her Easter basket with packets of seeds that will produce her favorite flowers, as well as gardening tools and gardening gloves with her monogram. Fill an Easter basket for your son with items such as a new basketball, wristbands and a headband, since this sport is played in the spring. Include a card in the Easter basket expressing your love for your child and wishing him a happy Easter, and be prepared to participate in the activity suggested by the basket with your child once the gift is opened.
Jewelry
Jewelry with an Easter theme will likely be well-received by a 7-, 8- or 9-year-old who likes to wear jewelry and isn't likely to lose it. Give a necklace or bracelet with a cross pendant for religious Easter jewelry. For jewelry that celebrates other symbols of the holiday, such as baby animals or spring time, buy a pair of bunny-shaped earrings for your daughter, or choose a tie pin featuring a small image of your son's favorite animal, such as a bear cub or baby monkey. These items can be presented to your child in gold or silver and worn only on special occasions, or in your child's favorite color to make their everyday wardrobe more customized.
References
Writer Bio
Tamiya King has been writing for over a decade, particularly in the areas of poetry and short stories. She also has extensive experience writing SEO and alternative health articles, and has written published interviews and other pieces for the "Atlanta Tribune" and Jolt Marketing. She possesses a Bachelor of Arts in English and is currently pursuing higher education to become a creative writing professor.
Photo Credits
Tooga/Photodisc/Getty Images