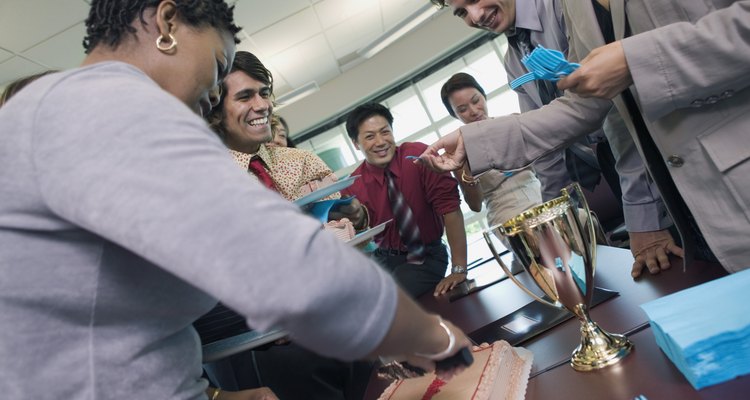 ColorBlind Images/Blend Images/Getty Images
When an employee is leaving a job on good terms, it's often customary for a group, including the manager and some colleagues, to take the departing employee to lunch on her last day. Some offices go a step further by presenting the employee with a gift during her sendoff. Whether the employee is retiring or simply taking a new job, your gift can relate to her career choice, celebrate a hobby, help her remember your workplace or just convey your best wishes.
Gifts for the New Job
If the employee is taking a new job, think of what he might need for that position. For someone who will have to travel frequently, buy a set of luggage, a hanging garment bag or a pair of noise-canceling headphones that he can use on the airplane. If he'll be commuting by train, buy a subscription or digital subscription to a magazine that he can enjoy on the commute. If you and the employee share a sense of humor, you can also offer a tongue-in-cheek gift such as an umbrella if he's headed to a damp climate.
Gifts for Retirement
Thinking of the employee's favored hobbies is especially ideal if the person is retiring. Upon retirement, she'll have ample time to explore her passions, and your gift can give her a hand. For the employee who can't wait to travel, buy her a camera, a pair of binoculars or a gift card for a travel website. If she plans to golf frequently, buy her a putter and have a message such as "With thanks" and the years she worked for your company engraved on the head.
Remember the Company
A gift for an employee is often an opportunity to give something that reminds him of the company he's leaving. This gift could be as simple as a windbreaker, a leather jacket or a polo shirt emblazoned with the company's logo. For someone who's worked for the company for a longer duration, ideas can include a watch with the company's logo on the face and a personalized engraving on the rear or an engraved decanter and a pair of scotch glasses.
Keep It Simple
Don't omit a greeting card for the employee who's leaving. This simple addition to your celebration might be the item the employee treasures most. Give each of the employee's colleagues time to write a thoughtful message and convey best wishes. For a fun gimmick, buy an oversized card or decorate a large piece of cardboard with pictures of the departing employee, her colleagues and even some shots around the office. Decorate it in colorful markers, and you have a thoughtful, low-budget gift.
References
Writer Bio
Toronto-based journalist William McCoy has been writing since 1997, specializing in topics such as sports, nutrition and health. He serves as the Studio's sports and recreation section expert. McCoy is a journalism graduate of Ryerson University.
Photo Credits
ColorBlind Images/Blend Images/Getty Images