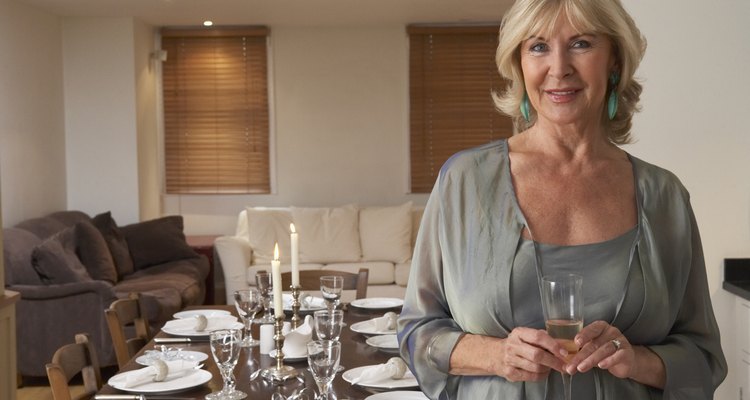 Cathy Yeulet/Hemera/Getty Images
An invitation to a brunch is an opportunity to relax with friends, but while you have your feet up, the hostess is busily working to ensure the event is a success. A gift in your hands when you ring the doorbell gives the hostess a symbol of your thanks for hosting the event. While there's no universally perfect gift to give, your choice can range from practical to homemade.
Kitchen-Themed Gifts
Many hostesses enjoy throwing parties, which makes a kitchen- or entertaining-themed gift appropriate in many circumstances. A colorful ceramic mixing bowl, a crystal serving platter, a set of pewter beer mugs or a pair of artisan salad tongs can add visual appeal to the hostess's kitchen, while still being something practical that she can use regularly. Or, if you're unsure of what she already has, a gift card to a kitchen store or gourmet foods shop is suitable.
Edible Gifts
If your brunch hostess is a foodie who's constantly experimenting with new flavors and dishes, she'll appreciate a gift she can enjoy eating during a quiet moment. Homemade mixes of nuts, gourmet popcorn or a plate of freshly baked squares are suitable, as is a sheet of homemade peanut brittle or a dish of home-smoked beef jerky. Pair your edible gift with a bottle of wine or a selection of craft beers or apple ciders.
Homemade Gifts
A homemade gift shows that you've spent some time putting together a token of your appreciation. Depending on your skills, the gift could be something knit, such as a cap or gloves, something sewn, like a set of place mats, or something handcrafted in the workshop, such as a wooden serving board or a lathe-turned carving bowl. If you attend the brunch with young children, having your kids prepare some homemade art for the hostess conveys their appreciation.
Budget Ideas
You might not be able to afford an extensive gift, but your tight budget isn't a reason to skip giving something to your hostess. If you're a gardener, present her with a selection of fresh herbs, a basket of snow peas or a handmade bouquet of fresh flowers. Pair your gift with a handwritten note that expresses your appreciation for attending the brunch and offers some compliments about the hostess's hospitality.
References
Writer Bio
Toronto-based journalist William McCoy has been writing since 1997, specializing in topics such as sports, nutrition and health. He serves as the Studio's sports and recreation section expert. McCoy is a journalism graduate of Ryerson University.
Photo Credits
Cathy Yeulet/Hemera/Getty Images