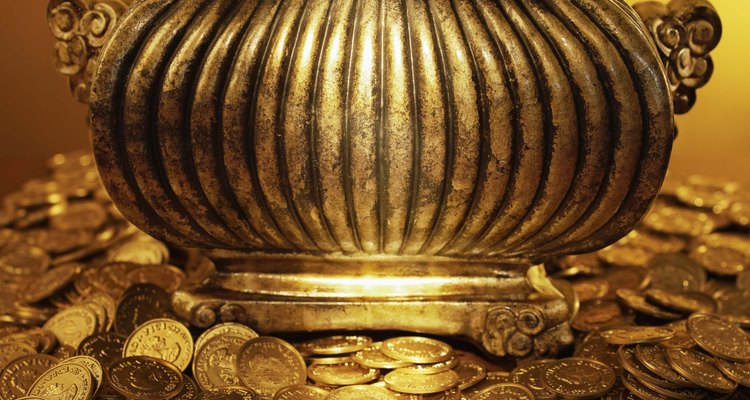 Jupiterimages/Comstock/Getty Images
If you know a couple with an approaching 50th wedding anniversary, you're probably wondering what to get them for such a monumental occasion. Not to worry, even if your budget is small the perfect gift is out there. If you can't afford to buy a gift on your own, you can always go in on a group gift with other couples.
Gold
Gold is the traditional gift to give on a 50th wedding anniversary. Ideas for gifts made with gold include his-and-hers jewelry, a photo frame, a coin, candle holders, gold-plated champagne flutes or a gold-rimmed serving dish. If you can't afford real gold, items made to look like gold hold the same symbolism. If you don't want to buy a gold gift, consider wrapping the gift in gold paper.
Something Engraved
Any gift can be made sentimental by having it engraved. Ideas include a painting with an engraved plaque, anniversary-themed wind chime, anniversary wall plate, wall clock, flower pot, trinket box or drinking steins. The engraving itself should consist of the couple's names and wedding anniversary but could also include a special quote or statement.
50 of Something
For a humorous 50th anniversary gift, give the couple 50 of something, one for each year of marriage. Examples include 50 long stem roses, homemade muffins (or other favorite treat), a gift basket with 50 items in it or 50 of the couple's favorite items or activities.
Group Gift
If you know a few other couples who will go in with you on a larger gift, consider sending the couple on a romantic cruise, an exotic vacation or to the place where they spent their honeymoon. Other group gift ideas include a set of reclining chairs, a one-year pass for two to the theater or a local attraction, a flat-screen television, a personal video recorder or a counter- top dishwasher.
References
Writer Bio
Crystal Bonser has been working as a freelance writer and editor for an educational website since 2009. She is also the creator of a pet-loss website on which she facilitates weekly grief support groups. Bonser holds a Bachelor of Social Work and a minor in psychology from Ryerson University.
Photo Credits
Jupiterimages/Comstock/Getty Images