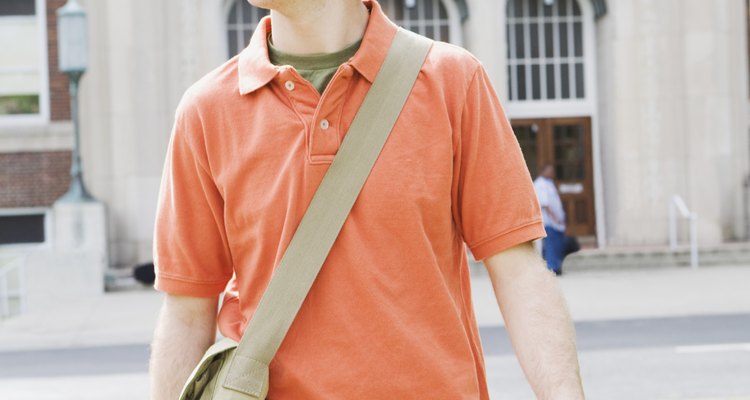 Jupiterimages/Brand X Pictures/Getty Images
As exciting as it may be that your boyfriend was accepted into the college he always dreamed of attending, wondering how you will cope with this change is a normal reaction. An article published on the "Science of Relationships" notes that three-quarters of college students are involved in a long-distance relationship at some point during their collegiate career; many people share in your feelings of worry and sadness. It's important to take care of yourself and take proactive steps to keep your relationship strong as you cope with this difficult, but not necessarily relationship-ending, transition.
Step 1
Communicate, communicate, communicate. Despite the distance posed by your boyfriend being in college, thanks to technology options like cell phones, smartphones and webcams, staying in touch isn't hard to do. Even if you have time to send only a short text telling him you care, communicating in various ways throughout the day helps you feel more connected.
Step 2
Set aside a certain time each day to talk, even if it's just for a few minutes. After his schedule is established, agree on a time to talk on the phone or via computer. This gives you something to look forward to during your day and assures you will hear his voice at least once per day.
Step 3
Create a care package that shows your boyfriend how much you care. Include a letter telling him how much you miss him, along with other trinkets or baked goods you know he enjoys. Try to add a gag or silly gift; "Psychology Today" reports that humor has the ability to improve your relationship with your significant other. Not only will he enjoy the surprise, sharing your feelings also helps you cope with the distance.
Step 4
Visit your boyfriend as often as you are able. Paul Holt and Gerald Stone found that seeing each other is one of the most effective coping mechanisms for individuals involved in a long-distance relationship. Before you head for a surprise or planned visit, make sure that his dorm allows overnight visitors if he lives on campus.
Step 5
Place photos of your boyfriend in locations you will see throughout the day. Select one special photo that evokes a positive memory you shared with your boyfriend. Frame it and place it on your desk or make it the background photo on your phone. Each time you see the photo, the happy memory will help you cope with sadness you may feel due to his absence.
Step 6
Keep yourself busy while he is away at college. It's okay to enjoy yourself and have fun. In fact, involving yourself with friends and volunteer activities is a healthy way of coping with any sense of loss you may feel. Sitting at home alone and longing for your boyfriend is not healthy; doing something entertaining and productive will make the time he's away fly by.
References
Writer Bio
Based in Texas, Lucie Westminster has been a writer and researcher since 1975. Her work has been published in journals such as "Psychological Reports" and "Journal of Verbal Learning and Verbal Behavior." Westminster's interests include developmental psychology, children, pets and crafting. She holds a Ph.D. in psychology from Miami University.
Photo Credits
Jupiterimages/Brand X Pictures/Getty Images