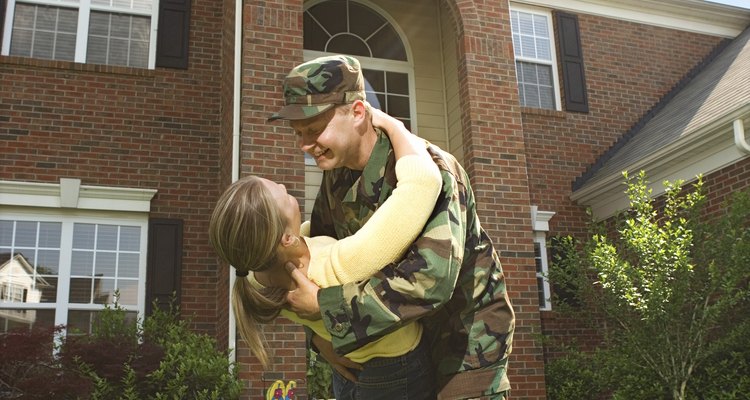 Thinkstock/Stockbyte/Getty Images
Staying positive and keeping your relationship strong while your boyfriend is away serving in the Army can feel like quite a challenge. If there's any uncertainty about your relationship, be sure both of you discuss your feelings before he leaves to see if you want the same things from the relationship. And while arguments are common in the time leading up to deployment because of the increasing amount of stress, try to work through problems before he leaves to avoid unresolved issues.
Step 1
Support your boyfriend during the pre-deployment stage as much as possible since it will be a significantly emotional time for him, too. Try to avoid making him feel guilty about his upcoming deployment and, instead, discuss your expectations for the time he'll be away, such as what freedoms and contact with the opposite sex you both are comfortable with and any financial considerations if you have been sharing budgeting and expenses in your relationship.
Step 2
Plan to stay in touch. As with other long-distance relationships, it's important to try to communicate openly and share your feelings freely to maintain trust while your boyfriend is away. Be prepared for long periods of sparse communication though, since phone calls and letters can come infrequently to combat zones. When you do have the opportunity to communicate, try to keep the conversations upbeat -- focusing on how much you love him rather than how horrible it is at home without him. However, don't hide problems or concerns because it can hinder trust or make him worry.
Step 3
Try to keep up a relatively steady stream of small tokens and gifts. It will give you an opportunity to focus on doing something nice for your boyfriend and let him know that you're thinking of him back home. You can send care packages filled with goodies, photos, magazines, DVDs and his favorite personal hygiene items. For a more personalized gift, make him something by hand, such as a photo collage or miniature scrapbook, or give him something to look forward to by sending him custom coupons he can redeem for favors when he gets home. Regardless of the gifts you choose, continue to send letters or emails as often as possible to let him know what's going on back home and to feel connected to him despite the distance between you.
Step 4
Lean on your friends and family to help get you through this time apart. You can join a support group for military girlfriends and significant others to share your experience with others who know how you feel. Look for social support in officially sanctioned organizations called Family Readiness Groups (FRGs) that welcome both wives and girlfriends. You can also search for a support group online. Try to meet some of the other people in your boyfriend's unit, too, including the other wives and girlfriends.
Step 5
Set goals for yourself and work toward them. You can focus on fixing up your place, filling the lonely hours with projects that will keep your mind distracted and give you something to show off to your boyfriend when he returns. You can set a health goal and focus on making changes to your diet and exercise schedule -- you might even have time to squeeze in regular visits to the gym. Your progress toward your goals also gives you something positive to talk about with your boyfriend. You can also discuss future plans and goals with him, such as the type of home you'd like to buy together, to help reduce the stress caused by his absence.
Step 6
Take advantage of every moment you have together when your boyfriend receives blocks of leave. You can decide on what you'd like to do during that time beforehand, which gives you another positive to discuss while he's away. However, don't worry if your face time doesn't go as planned -- just focus on indulging in each other. Be considerate and try to arrange time for your boyfriend to visit with his close family and friends before his leave is over, too.
References
Resources
Writer Bio
Rosenya Faith has been working with children since the age of 16 as a swimming instructor and dance instructor. For more than 14 years she has worked as a recreation and skill development leader, an early childhood educator and a teaching assistant, working in elementary schools and with special needs children between 4 and 11 years of age.
Photo Credits
Thinkstock/Stockbyte/Getty Images