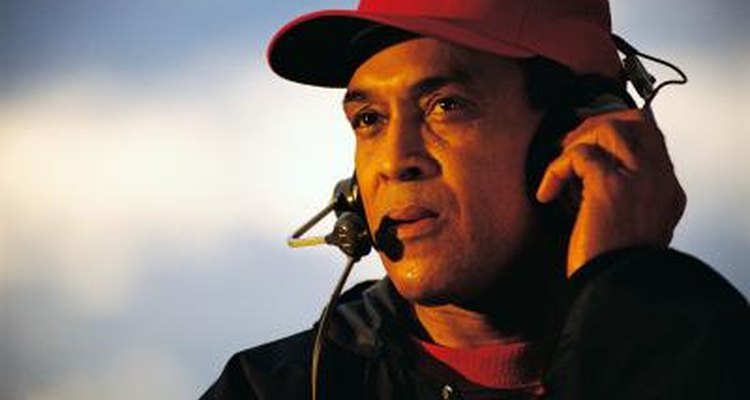 Comstock/Stockbyte/Getty Images
Being a modern-day coach's wife isn't the same as it was in your mother's generation. Instead of sitting patiently at home with a roast in the oven, contemporary spouses of coaches are supportive while being independent individuals. This means that instead of living for the team, you can balance your own life with his. Doing so allows you to encourage your husband and be his game-day cheerleader while still being yourself.
Step 1
Introduce yourself to the team, suggests real-life coach's wife Sara Merritt on her website "Football Wife." If your husband is a coach at the high school level, you can also introduce yourself to the parents and siblings of the players. While you don't have to spend every waking second getting to know the players, make an effort to learn their names. Have a preseason dinner or barbecue for the team, letting them get to know who you are and that you are more than just the woman behind the man.
Step 2
Develop your own interests or career. During the sports season, your husband may have 12-plus-hour days. Avoid sitting around waiting for him to return home. Get out of the house and take a class for adults, join a women's book club or pursue your professional passion. Whether you work outside of the home or not, make your own interests a top priority.
Step 3
Accept that other people may have some not-so-nice things to say about your husband. When the team loses a big game or your husband decides not to put a specific player in, the fans may make their opinions of his coaching audible. Even if they don't want to speak their minds in front of him, they may have no problem doing so in front of you. Avoid a confrontation with an angry fan. Shrug it off and support your husband. Let him know that you are always there for him and will listen to his stresses and worries.
Step 4
Show your team spirit. This doesn't mean that you have to wear a jersey around every day or show up at each and every practice. Support your guy on game night by being in a special place in the stands and wearing the team's colors.
Step 5
Find comfort and support in other wives. If your husband coaches at the high school level, introduce yourself to other coaches' wives during banquets or games. If he's a college or pro coach, meet the players' wives and develop friendships. Becoming friends with women in the same, or a similar, situation as your own offers a sense of support and kinship.
References
Writer Bio
Based in Pittsburgh, Erica Loop has been writing education, child development and parenting articles since 2009. Her articles have appeared in "Pittsburgh Parent Magazine" and the website PBS Parents. She has a Master of Science in applied developmental psychology from the University of Pittsburgh's School of Education.
Photo Credits
Comstock/Stockbyte/Getty Images