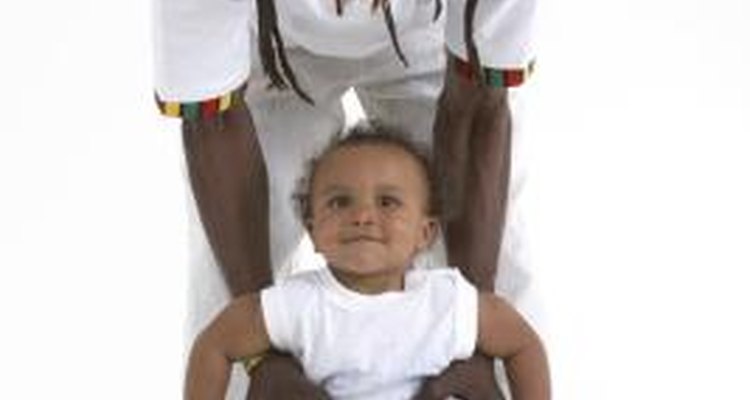 Chris Ted/Lifesize/Getty Images
Generally speaking, babies don't need to invest much effort into impressing a crowd. They come cute and cuddly, adorable and fun, in all shapes and sizes. That said, proud parents can still engage in baby contests just for the excitement of the game, and as perhaps a way to get those competitive juices flowing as practice for later years. Even with a limited skill set, there are many ways to vie baby against baby for an entertaining afternoon.
Baby Races
Simply designate a starting and finishing point approximately 10 feet apart on a comfortable surface like a soft rug, a gymnasium mat or even plush grass. Tape a number to the back of the baby's shirt. Have mom or another familiar face waiting at the finish line. The first baby to reach it wins. Babies need not even be of crawling age. Rolling or inch-worming across the room works just as well.
Photo Contest
Photo contests work well because most new parents already own a plethora of photos. Come up with a theme, like costume or first birthday cake, and have parents submit their baby's cutest photo. Make sure parents sign a waiver if you want to be able to post the winning photos in a public area.
Daddy Diaper Change
Baby can still compete without doing all the work. Hold a diaper changing contest with dad as a co-contestant. See who can clean, powder and diaper their little one in the shortest time with the fewest spills. The winning daddy/baby team walk away with a prize.
Dance Contest
Most babies love to dance. Turn on some lively music and let the babies show off their best moves. This contest is fun to watch as most parents like to get in on the groove, as well. The baby who dances the longest wins the trophy.
Beauty Pageant
Even babies can participate in a traditional pageant. Pretty dresses, dapper suits and adorable costumes serve as a way to impress the judges. Mom or another guardian can bring baby out on stage. Big smiles score the highest, and a wave or other signature move is icing on the cake.
Costume Contest
You may be hard-pressed to find something cuter than a baby dressed up in costume. It doesn't matter what time of year it is, a baby costume contest should draw lots of entries. For example, a baby born in November never had a chance to get dressed up for Halloween; as a result, mom may jump at the chance to put a cute costume on her bundle of joy. You may have some very elaborate entries. The most creative should win the show.
References
Writer Bio
Diane Todd holds a Bachelor of Arts in mass communication from North Carolina State University and is a former video and web producer for a North Carolina multimedia agency. She also spent several years as a media specialist/graphics designer for the Cumberland County school system in Fayetteville, N.C.
Photo Credits
Chris Ted/Lifesize/Getty Images