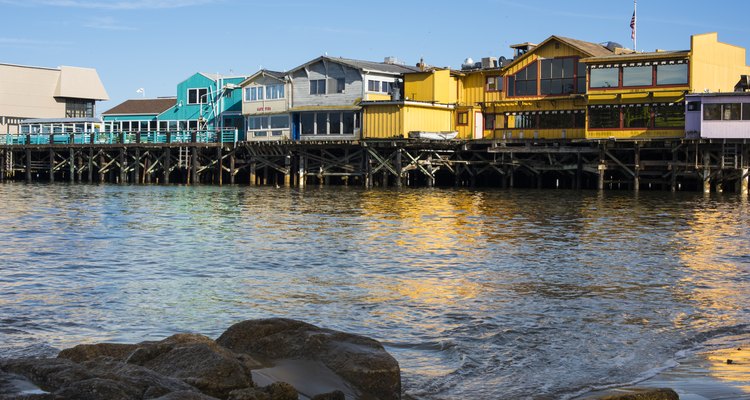 Juli Scalzi/iStock/GettyImages
Seals and Dolphins and Whales, Oh My!
Sitting pretty on the northern California coast, Monterey, CA, offers families the wide and wonderful world of nature—perfect for free fun-in-the-sun activities. It all starts with the blue waters of the Monterey Bay National Marine Sanctuary with its seals, dolphins and whales. There's also a working fishing port, the Coast Guard Pier and Cannery Row, made famous by writer John Steinbeck.
Where to begin? Here's a short list to get you started.
Say Hey to Monterey Bay
To paraphrase Shakespeare, the bay's the thing. It's the heart and soul of Monterey. The bay is protected as the Monterey Bay National Marine Sanctuary and has dense kelp forests and a wild variety of marine life. Kids love adventuring along the coast, and don't leave Fido at home—it's a dog-friendly setting. The magnificent rocky coastal area offers great, easily accessible tide pools brimming with sea life, and the beaches are great for making sand castles. In winter months, bring jackets, but it's never icy cold nor uncomfortably hot. The July high is around 63 degrees F, while the January low is in the mid-40s.
Explore Old Fisherman's Wharf
Monterey's Old Fisherman's Wharf (1 Old Fisherman's Wharf, Monterey, CA) is as exciting as Disneyland, but doesn't cost a dime. Built before the turn of the century, the wharf was originally used for cargo shipping and later for Monterey's sardine fishing trade. Today, it's a lively hub with open-air clam bars, fish markets, art and gift shops, sport fishing and whale-watching cruises. Kids will love the old wooden buildings, the bustle of the boats and keeping a look-out for whales. Then, there are the sea lions sleeping on the pilings. Lots of Wharf restaurants offer free samples of clam chowder in little paper cups, and there's no rule against trying them all.
Make Mischief at Dennis the Menace Park
Those mischief-loving kids can do their worst at Dennis the Menace Park (777 Pearl St., Monterey, CA), part of the El Estero Park Complex in downtown Monterey. The playground was funded by Hank Ketchum, creator of the famous comic character, and is spacious, clean and safe. Do the kids want to swing? How about hitting the numerous slides, including some that look like curly pasta? Or point them in the direction of the rock-climbing wall. There's also a duck pond, a lighted ball field, a skate park, a youth center, a dance studio, a large group picnic area and a snack bar. It's a perfect place for a family picnic in the sun.
Walk to Cannery Row
Here's a great walk: Go from Old Fisherman's Wharf to Cannery Row right along the bayfront. It's part of the Monterey Recreational Trail that runs over the old Southern Pacific railroad tracks that served Cannery Row during Monterey's renowned sardine-fishing era. You'll find small beaches along the way, boats of all shapes and sizes, harbor seals, sea lions and sea otters amid brilliant shades of blue water. Did the kids bring their bikes, skates or skateboards? This is the place to let them roll. Every turn has scenic vistas and wildlife viewing opportunities. If you're lucky, you may even see whales!
Chatting With Sea Lions at the Coast Guard Pier
Fisherman's Wharf is not the only pier in Monterey. A short walk away is the Coast Guard Pier (100 Lighthouse Ave., Monterey, CA), a 1,700-foot breakwater guarding the north side of the harbor. It's one of Monterey's best wildlife viewing spot, with a rich seabird rookery, sea lions, harbor seals and sea otters. Walk all the way to the end to see hundreds of sea lions dozing in the California sun, and dozens of seals too. You may see sea lions who want to nap rudely displacing the sea lions already napping. They splash into the ocean and swim around, critiquing the situation loudly. Sea otters often play in the area as well, and it's a great vantage point for photos of the harbor, the boats and the sea.
References
Writer Bio
From Alaska to California, from France's Basque Country to Mexico's Pacific Coast, Teo Spengler has dug the soil, planted seeds and helped trees, flowers and veggies thrive. World traveler, professional writer and consummate gardener, Spengler earned a BA from U.C. Santa Cruz, a law degree from Berkeley's Boalt Hall, and an MA and MFA from San Francisco State. She currently divides her life between San Francisco and southwestern France.