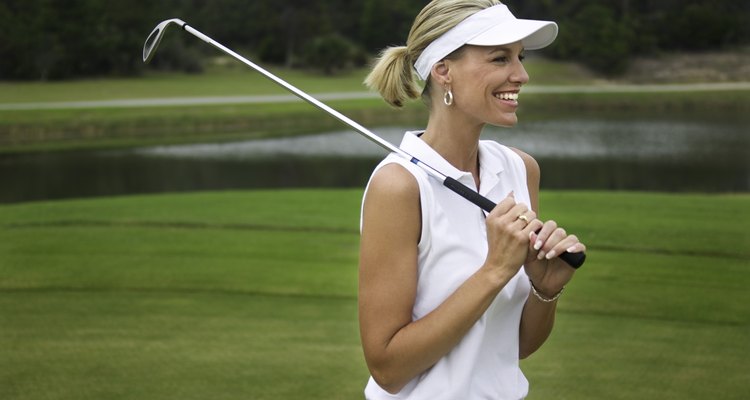 Thinkstock/Stockbyte/Getty Images
Hitting the links for a round of golf can be an enjoyable way to spend an afternoon. If you're new to the game, though, you're probably not sure what to wear when as you hit the first tee. You want to be comfortable and able to move freely, but many country clubs and courses have rules about appropriate dress. While these guidelines can help narrow your choices, there's still enough leeway for you to pick out options that you like and fit your playing style.
Top It Off
A traditional polo shirt is usually the best option, because even some public courses insist on collared shirts for women. However, other courses allow collarless shirts as long as they have sleeves, so a crew or V-neck T-shirt may be suitable. Some sites also allow tank tops, so in hot weather, you may prefer to go sleeveless. Be sure to research the dress code of your selected course. Cotton is the classic fabric option, but if the weather is warm, a shirt made of a technical material designed to wick away moisture can keep you from feeling sweaty on the green. Tops in light colors like white, pale pink and sky blue are typically the coolest options because they don't absorb as much heat from the sun.
Bottom Line
If the weather's cool, khaki pants are usually the most comfortable option for women on the golf course. Capri or cropped khakis also work well. In hot weather, though, many courses allow shorts. Simple tailored styles that reach the knees or just above are the most flattering options. Or go for a more dressed up look by choosing a skort, which is a pair of shorts with a fabric panel that makes them look like a skirt. Traditional skirts like a simple khaki A-line style are acceptable too. You can also find skirts made specifically for golf from stretchy fabric that allows greater mobility. As with shorts, check your course's dress code to determine how long your skirt must be.
Best Foot Forward
Some golf courses require soft spiked golf shoes on the green, and many major athletic shoe manufacturers like Nike and Adidas make golf shoes for women in a variety of colors and styles. However, if you're a new golfer and your course allows sneakers, a simple pair of athletic shoes is a better option until you're sure that you want to invest in golf shoes. Avoid running sneakers, which are too cushioned under the heel to keep you level with the ground. In hot weather, you may be able to wear golf sandals, which have the same sole as a traditional golf shoe but can be worn without socks to keep you cool.
Finishing Touches
A few practical accessories can help keep you comfortable on the green. If you're going to play in the sun, wear a hat to shield yourself from its harmful rays. A simple baseball cap works well, but if you're worried about flattening your hair, choose a visor instead. Invest in a pair of wrap-around sunglasses with lenses that block UVA and UVB rays and provide full coverage for your eyes too. For rainy or cool days, a rain jacket or windbreaker allows you to keep playing comfortably even in unpleasant weather.
References
Writer Bio
Based in New York City, Jennifer Blair has been covering all things home and garden since 2001. Her writing has appeared on BobVila.com, World Lifestyle, and House Logic. Blair holds a Bachelor of Arts in Writing Seminars from the Johns Hopkins University in Baltimore, Maryland.
Photo Credits
Thinkstock/Stockbyte/Getty Images