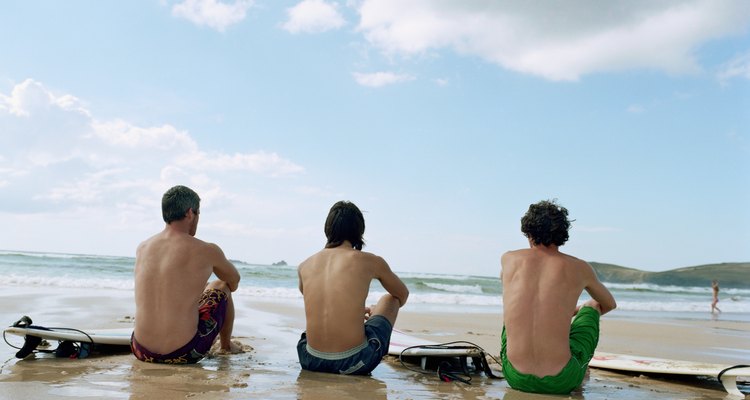 Digital Vision/DigitalVision/Getty Images
While swim trunks and board shorts might appear similar to the untrained eye, these two types of swimming attire feature subtle differences. The swim trunk traditionally feature an elastic waist and a mesh lining inside the short; while board shorts are typically longer in length and sport a drawstring waist.You can use board shorts instead of swim trunks, since they are designed for the same basic purpose. Swim trunks and board shorts feature a quick-drying design that helps to prevent chaffing.
Surf's Up
When catching the waves at your favorite beach destination, you don't want your swim wear to hinder your movement. Throughout the 1960s and 70s, surfers wore conventional trunks that fit above the knee. Swim trunks generally feature an interior mesh lining for support, but mesh lining has been known to hinder leg movement during high-speed turns. To alleviate this problem, manufacturers offer durable board shorts made from polyester and nylon without the mesh liner.
Wakeboarding
Wakeboarding is a hybrid water sport that combines the tricks of snowboarding with the terrain of water skiing. Both swim trunks and board shorts will prevent skin irritation during a long day on the lake, but many wakeboarders prefer board shorts as they fit below the knee. Swim trunks can easily slide up your legs during high-speed maneuvers. Unlike swim trunks, board shorts for wakeboarding are designed to stay in place during high-impact tricks.
Chill Out
When lounging on the beach with family and friends, board shorts will function just as well as swim trunks. While swim trunks allow the area above your knees to get tan, board shorts will shield your legs from the powerful rays of the sun. Board shorts are designed with a breathable material that allows the outside air to absorb your perspiration. Avoid board shorts that feature dark-colored graphics to prevent your legs from overheating.
Fit Your Needs
As opposed to lightweight cotton or linen shorts, you can don swim trunks during the humid days of summer. Swim trunks generally feature pockets that allow you to carry personal belongings such as your wallet and keys. The Velcro pockets of board shorts enable you to do the same. Surfers generally carry a specialized comb that aids in the board waxing process. Board shorts feature an elastic tie that will prevent the surfing comb from falling out of your pocket.
References
Writer Bio
Philip Foster has been writing professionally since 2010. His work has been featured in the literary-arts magazine "The PEEL" and the weekly newspaper "The Mountain Xpress." Foster is an expert in various extreme sports. He cooked in a restaurant that offered organic and vegetarian cuisine for over three years. Foster received a Bachelor of Arts in creative writing from Appalachian State University.
Photo Credits
Digital Vision/DigitalVision/Getty Images