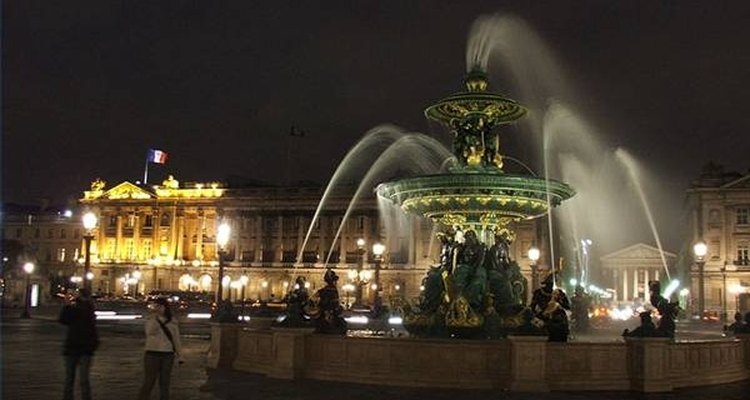 http://commons.wikimedia.org/wiki/File:Fontaine_Concorde_Paris_6393.JPG
The French are known for their stunning taste in clothing and effortless elegance. Home of some of the world's most successful design houses, it is no surprise that Paris is considered to be the fashion capitol of the world. If you feel your style needs more sophistication, try to emulate the French style of dressing. The key lies in understated clothing and accessories that are not overly glitzy.
General Guidelines
Both French men and women wear sophisticated, elegant clothing. As a result, many American tourists often feel underdressed compared to the French natives. One of the cardinal rules of the French dress code is wearing understated, well-fitting clothes. It follows that the sweatpants and oversized T-shirt look popular in North America is seldom seen among the French, unless they are in the privacy of their own home. More specifically, the French prefer a tidy look that does not reveal.
Summer Apparel
While France does experience hot temperatures in the summer, most French men and women do not wear shorts. To keep cool, men often wear pants that end at the mid-calf length and are made of light fabrics. French women choose patterned skirts or capri pants that end at or below the knee for spring and summer. Both men and women pair these warm-weather bottoms with short-sleeved buttoned-down shirts or simple T-shirts.
Dresses
Because of its simplicity and elegance, the little black dress is a fashion staple for the majority of French women. Of course, women wear these reserved dresses in many other colors, in addition to black. Sometimes featuring various patterns, dresses are worn both in the professional and casual setting. However, in an effort to avoid flashy, loud clothing the French often prefer dark colors and minimalistic patterns for dresses and other garments.
Footwear
The French do wear sneakers, but in styles that differ from sneakers worn by many Americans. Unless they are exercising, French men and women do not wear traditional white sports sneakers. Instead, they opt for slim-fitting fashion sneakers made of materials, such as canvas. During the summer, leather sandals, as opposed to flip flops, are the preferred choice of summer footwear for both men and women in France.
Scarves
The scarf is a favorite accessory for both French men and women. Elegantly tied, knitted or wool scarves are worn to protect the neck from the cold during the winter and fall. Women continue to wear scarves even during the warmer seasons. They drape light scarves made of fabrics, such as silk or cotton, across their shoulders or tie them in a knot around the neck.
Writer Bio
Aksana Nikolai is a graduate of the New York Institute of Technology with a bachelor's degree in language studies and international affairs. Nikolai is currently working in online marketing and communications. She has been writing since 2008, specializing in made-for-Web content and maintaining her fashion and beauty blog.
Photo Credits
http://commons.wikimedia.org/wiki/File:Fontaine_Concorde_Paris_6393.JPG