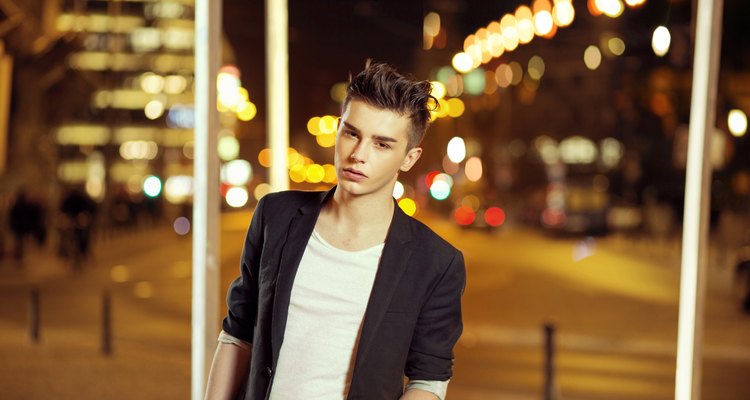 carton_king/iStock/Getty Images
High school is an exciting time-- albeit a time of worry, decision-making and responsibility. On the weekends, however, put down the books and silence your mind from classroom discussions. It's time to relax, socialize and meet new friends at a high school party. What you wear, however, has much to do with how you'll be perceived, the people you'll mingle with and, ultimately, how good a time you'll have.
Dress a Notch Above
Step up your daily wear and ditch t-shirts with sayings or loud graphics. Wear a collared shirt-- either button-down or polo style. Pair shirts with flat-front pants, cargo or more tailored button-front shorts. Khakis, dark pants or colored jeans are best when paired with a classic, plaid or patterned shirt. Invest in a black or brown belt, and tuck in your shirt if it trails down your your hip. Make sure your shoes are only gently worn, and don't wear bulky tennis shoes. Boat shoes, soft leather slip-ons or a pair of Vans or Converse fare much better than flip flops or open-toed sandals.
Wear a Trend
The key to looking fashionable is to know what's trending but to also choose wisely. Take one trend, such as a scarf, watch, hat or belt, and pair it with more conservative pieces. Allow that trend to be as colorful and descriptive as you like-- just make sure you don't mix loud patterns or go too far off the color wheel in mixing your hues. For example, a grey-and-white striped shirt complements a trendy, solid-colored navy knit cap. Remember, color-blocking is okay, but that is a trend in itself. Mix things up just enough so that you look fashionable but not like you just stepped off a ridiculous runway.
Size Matters
No matter what you wear, make sure it fits properly. Guys look best in flat-front pants or jeans that are hemmed in the back 1/2 to 3/4 inch above the ground. Anything shorter looks like you are waiting for a flood. Also, socks should never been seen while walking. Stay away from too-tight t-shirts, skinny jeans that ripple on your legs and pants that slip down your behind as you walk. After getting dressed, walk around. If you have to adjust any part of your outfit as you walk, go back to the closet.
Layer with Confidence
Layering is a good fashion strategy when getting dressed for a party. Start with a basic short- or long-sleeved tee and add a cardigan, v-neck sweater or vest to the top. You can always remove these items should you take center stage with your dance moves. In the winter months, cover up with a trench coat, safari jacket or denim jacket. Accessories, such as scarves and hats, make layering interesting and fun when you add a pop of color.
References
Writer Bio
Based in Los Angeles, Lisa Finn has been writing professionally for 20 years. Her print and online articles appear in magazines and websites such as "Spa Magazine," "L.A. Parent," "Business," the Famous Footwear blog and many others. She also ghostwrites for mompreneurs and business owners who appear regularly on shows such as Ricki Lake, HGTV, Carson Daly and The Today Show.
Photo Credits
carton_king/iStock/Getty Images