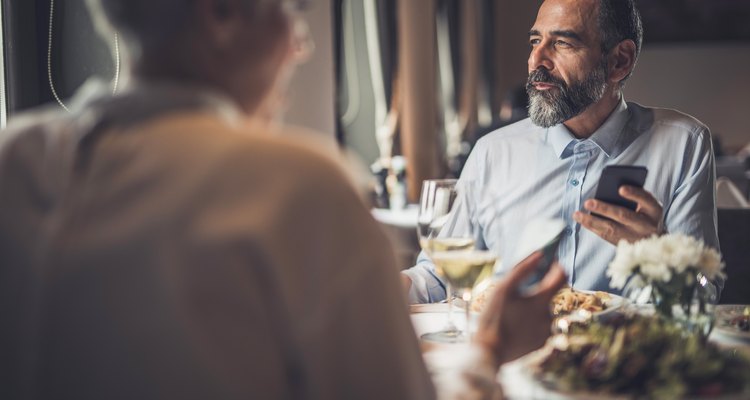 Opening a new restaurant is no small feat. The process requires a lot of time, perseverance and hard work in taking the idea from conception to reality. Giving a gift to friends to celebrate their new restaurant is a way to show you are proud of their efforts, sacrifices and to wish them success with their venture. No matter what your budget is, you can choose a gift that offers a personalized meaning or usefulness that reflects the special day and restaurant itself.
Framed Dollar Display
Some restaurant owners celebrate the beginning of their business venture by keeping the first dollar earned in business. One opening day option is to give your friends a quality framed, matted display matching the restaurant's decor with space for them to add that first earned dollar. Adding a fake dollar bill from a Monopoly game as a place holder, is a nice touch that will add a bit of humor to the gift. A small plaque on the display to showcase the restaurant name and date of opening, "Cheers, Established June, 2018" completes the gift.
Web Presence
Opening a restaurant means a lot of expenses. After consulting with your friends, a intangible gift idea may be to purchase the domain name matching the name of their restaurant. Offer it as a gift to start their new website. If you have web design skills, you also might be able to design or build a new restaurant web site for them.
Making Memories
A restaurant opening day can be hectic. Hiring a photographer to take pictures on the opening day is a gift that can preserve the memories of the day. Once you have the proofs, you can compile the images into a book or print a photograph to be hung in the restaurant.
Bar Ware or Beverage Sets
A set of custom-engraved or screen-printed glasses makes a useful gift for restaurant owners to use at their restaurant or at home. If the owners are wine lovers, the gift of wine glasses or beer mugs custom printed with the logo or name of the restaurant can also be a memorable gift option. If you are close to the friends opening the restaurant, consult with them to see if they have other branding needs. If they have business needs like signage, another option is to hire a sign company to make a custom logo or restaurant name to hang out front or apply to a surface inside the restaurant.
Other Gift Options
With the effort and time required to open a restaurant, your friends may be simply looking to relax and not have to prepare their own meals. Providing a meal subscription box service or food delivery gift certificate may be an option to help them out at the end of long days at the new restaurant. Another option is to give them gift cards that save them time and money. An Amazon or grocery store gift card could help them in shopping for their home or to pick up restaurant items that they have forgotten in the days before the opening like condiment caddies, dish tubs and serving pieces. A gift card to a site like Audible provides books for the commute into the restaurant. While new restaurant owners may not be able to take time off, the gift of a manicure gift certificate is a quick pampering option.
References
Writer Bio
Kathy Adams is an award-winning journalist. She is an avid DIYer that is equally at home repurposing random objects into new, useful creations as she is at supporting community gardening efforts and writing about healthy alternatives to household chemicals. She's written numerous DIY articles for paint and decor companies, as well as for Black + Decker, Hunker, Kroger, SFGate and others.