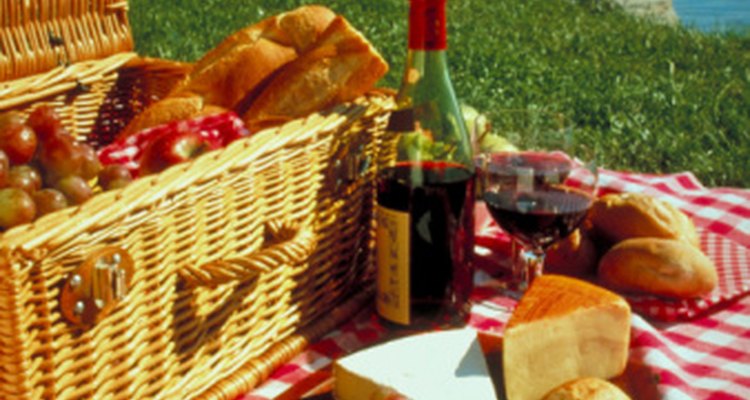 Jupiterimages/Photos.com/Getty Images
Choosing a present for an established couple can be a challenge, but a French wedding gift can be an unusual addition to the bride and groom's home or an indulgent treat on their wedding day. France is famous for its wine, cheese and fine cuisine, so you may wish to give the newlyweds a gift hamper of vintage French wine and regional cheeses. Depending on your budget, other options include champagne, furniture or even a French-themed trip.
Champagne
For a luxurious French wedding gift, send a case of champagne to the bride and groom. The Champagne-Ardenne region in the north of France is home to the champagne houses and vineyards, but authentic French champagne is imported into the United States. Champagne is widely available through online retailers specializing in bespoke and personalized wedding gifts.
French Food
Apart from wine and cheese, France has an excellent reputation for the quality of fine food in its restaurants, its patisserie products and delicatessen items. Choose a French food theme as a wedding gift and you can tailor the present to your budget. If the bride and groom enjoy French cuisine, treat them to a meal at a Michelin star-rated French restaurant. On a smaller scale, give a fresh basket of patisserie croissants, pastries and luxury preserves.
French Furniture
A gift for the home is a traditional wedding present choice, and genuine antique French furniture is a practical purchase and potential investment. Antique dealers provide a certificate of authenticity and documentation with pieces of value, so acquire period pieces from a reputable source. You can also find antique French bedroom furniture, mirrors, screens and lighting in auction houses and salerooms. Reproduction furniture is an alternative to the real thing if you want chic French-style furniture at a budget price.
French Vacation
If you have a large budget, you may wish to consider a trip to France as a generous French wedding gift. Paris is traditionally a romantic destination for couples, so send the newlyweds on a short French vacation including a river boat cruise along the Seine and a guided tour of the Eiffel Tower.
References
Writer Bio
Alex Burgess has been a professional writer since 1990, specializing in travel, herpetology, lifestyle, fashion, health and fitness. Her work has appeared in various British newspapers, magazines and international online publications. Burgess studied design before working as a journalist in England.
Photo Credits
Jupiterimages/Photos.com/Getty Images