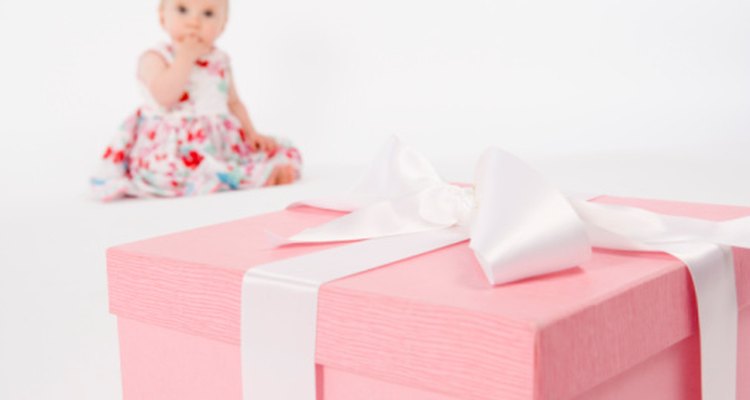 BananaStock/BananaStock/Getty Images
Many delight in presenting parents-to-be, or those who are basking in the joy of new parenthood, with baby gifts. While the gift itself is generally the most delightful part, the wrapping can prove pleasing as well. Instead of always relying on standard wrapping paper and ribbon, try out some more unique baby gift wrapping options to set your gift apart.
Blanket Wrapped Gift
Instead of standard wrapping paper, use a baby blanket to wrap your present. Lay your gift in the center of a carefully-selected receiving blanket and pull the blanket up, gathering it together at the top of the present. Secure the blanket with a ribbon, finishing your wrapping. When your gift recipient unwraps this gift, she will be left with a usable item instead of a pile of paper she must dispose.
Baby Item Ribbon Additions
Jazz up your present by placing some baby-appropriate items atop it. After wrapping your gift and attaching ribbons, make the top of the present more exciting by attaching a rattle, a pacifier and perhaps even a bottle to the ribbons. Arrange these items so they combine to make an attractive display that will likely catch the attention of your gift recipient.
Baby Tub Gift Basket
Many baby presents are oddly shaped and, as such, not easily wrapped. Instead of fighting with these potentially problematic presents, use a present itself as part of your wrapping plan. If you are buying the couple in question a baby tub, use this tub as the base of your wrapping. Fill the tub with other bath-time items to create a thematically unified present. Once filled, wrap ribbon around the tub, creating a large bow atop it and giving the tub the look of a standard gift basket.
Photo Box Wrapping
Many new parents delight in collecting photos of their infant. Make your gift wrap re-usable by placing your present in a photo box. Purchase a standard photo box or collection of boxes, and nestle your onesies, rattles, toys and baby socks in them. Attach ribbon to your box or collection of boxes to make it obvious that it is a present. You should, however, avoid placing any tape against the surfaces of these boxes, as this tape could mare the otherwise attractive finish when the excited parents rip into the present.
References
Writer Bio
Erin Schreiner is a freelance writer and teacher who holds a bachelor's degree from Bowling Green State University. She has been actively freelancing since 2008. Schreiner previously worked for a London-based freelance firm. Her work appears on eHow, Trails.com and RedEnvelope. She currently teaches writing to middle school students in Ohio and works on her writing craft regularly.
Photo Credits
BananaStock/BananaStock/Getty Images