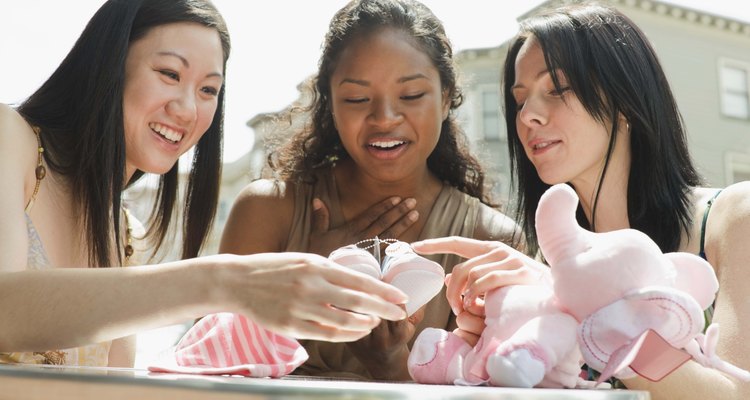 Jupiterimages/Comstock/Getty Images
Creating a homemade wishing well for a baby shower is a great way to decorate and create a space to collect different items for the expectant mother. Originally, wishing wells were used at baby showers and weddings to collect money, but now have a wide variety of uses. Wishing wells can be purchased, but a homemade one is easy to make and can match the decorations and theme of the party.
Size
Most homemade wishing wells are still made to resemble a real wishing well in some way, even if they will not be used for money. To make a homemade wishing well, decide how big it will need to be based on what type of items it will hold. A small wishing well can be placed on a table or a larger one on the floor, big enough to hold all the baby shower gifts. For a smaller one, use a wicker basket of any size for the base. Metal waste paper baskets or plant containers can be used for a more modern look. Use a laundry basket or toy box as a base for larger wishing wells.
Building
Once a size has been determined and a base chosen, the building begins. Dowel rods of different sizes or empty paper towel tubes can be glued on top of the base to extend up to the roof. Two pieces of cardboard or plywood cut to size can be glued on top of those at a 45-degree angle to one another to form the roof.
Decorate
Paint the basket and cardboard white, or a color to match the party. Use tulle, ribbons, bows and lace to decorate the wishing well. Find decorations to match the theme of the baby shower so the wishing well fits with other decorations at the party. A sign placed on the front of the wishing well with a cute poem or directions for the arriving guests is a nice final touch.
Theme
Wishing wells may still be used for guests to put money in; however, they are now more frequently used for other items. Once a theme has been selected, a note regarding the wishing well should be included with the invitations so guests will be aware of the extra item to bring. Cards, baby food, diapers, books, bath products or small baby toys are all great themes for a wishing well. Another idea is to have each guest write wishes for the baby or maybe a bit of parenting advice on a card to be dropped into the wishing well.
References
Resources
Writer Bio
Alaina Forbes pens a work-from-home blog, Telecommuting Mommies, that focuses on legitimate telecommuting companies as well as money saving topics. Her more personal blog, The Maestro Mom, focuses on her adventures in homeschooling and raising four children. She began writing online in 2004 and holds a Bachelor of Arts in communicative disorders from the University of Central Florida.
Photo Credits
Jupiterimages/Comstock/Getty Images