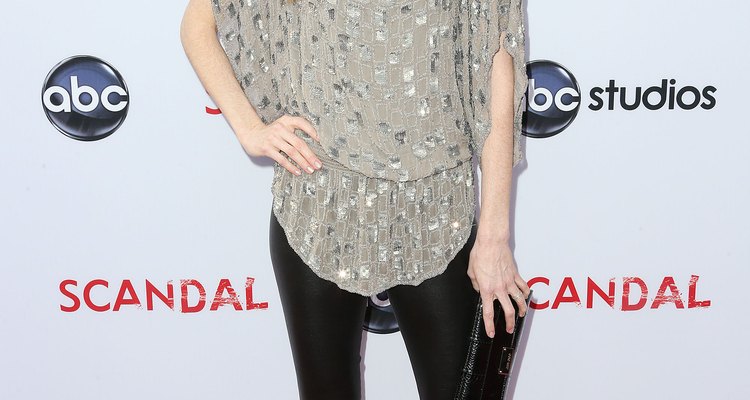 Frederick M. Brown/Getty Images Entertainment/Getty Images
The concept of skinny bottoms as a replacement for stockings or naked legs is still alive with the additions of the "jegging" and "tregging," both branches off of the legging. The legging's duty is to provide comfort in legwear that stiffer pants cannot supply. However, leggings are not seen as sufficient pants on their own in that they are usually required to be worn with a rear-covering top. Jeggings and treggings are more forgiving alternatives.
The Jegging
The jegging is an invention that reportedly came from a demand for a jean that was skinnier than the "skinny jean" popularized around 2009. It is a denim-spandex hybrid that may or may not have true pockets and belt-loops, due to the tightness of the fit. But whether or not the jean attributes are functional or not, they act as a visual haven for wearing leggings as pants instead of covering up the rear area with a tunic or overly long blouse.
The Tregging
While the tregging can sometimes include denim as a sub-category of trouser-leggings -- since jeans are officially a type of trouser -- tregging typically describes a legging-shaped bottom made out of a thicker fabric that is usually found in formal slacks. Chino-grade cotton, leather and corduroy are common trouser or tregging materials used to differentiate the pants from their thinner, stretchier-feeling counterparts -- the legging and the jegging. The thicker cloth is also what allows a tregging to be more tailored and the most work-appropriate between the three bottoms.
Appropriate Place of Wear
While the legging shape typically reserves its wearer to more casual occasions because of its body-conscious nature, the tregging has been edging into more conservative avenues. The material and general colors of treggings have allowed them to be paired with more dressy shirts for more reserved social occasions, such as a dinner date with friends or meetings within a fashion-centered company. Jeggings, on the other hand, are left for casual encounters -- such as shopping dates or going to class -- because of the association of jeans with relaxed settings. Regardless, treggings and jeggings are both good supplements to wear daily in place of the overly-casual legging.
Examples of How to Wear
For casual encounters, jeggings are best paired with something like slouchy boots and a slightly over-sized sweater or a T-shirt and cardigan combination. With skin-tight jeggings, proportions are generally more flattering if the blouse and shoes look like they have extra room to breathe. For the more reserved social encounters, the tregging needs to be kept in a clean-lined ensemble. Pair treggings with a button-down blouse with french sleeves and a tailored blazer and thick-strapped heels, to create volume around the skin-tight pants while keeping streamlined.
References
Writer Bio
Jessie Raisa has worked as a guest writer for the sartorial online magazine Cocokouture.com, focusing on style tips and runway reviews. Her research/ethnographic projects as a Seattle University undergraduate in anthropology/biology include writings on cross-cultural analyses of self-expression via clothing aesthetics and networking preferences.
Photo Credits
Frederick M. Brown/Getty Images Entertainment/Getty Images