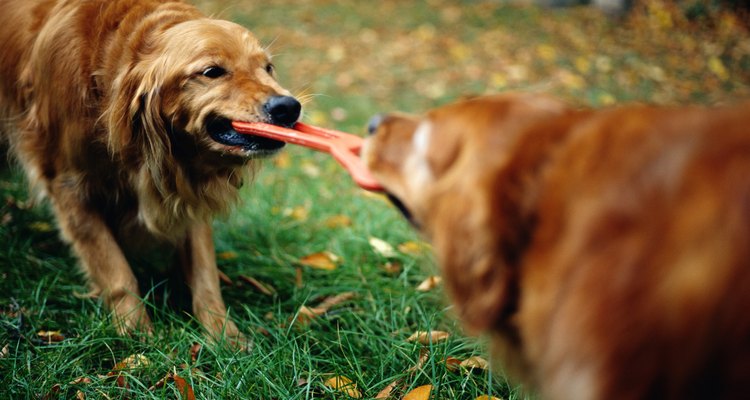 Ryan McVay/Photodisc/Getty Images
If you want to be your dog's best friend, supply your pet with durable, made-to-last toys. A few homemade toys are simple to create and provide hours of entertainment for you and your dog. Don't waste money on expensive, poorly made toys. Recycle materials in your own home and transform them into indestructible dog toys.
Tie a knot in a strong rope for your dog to chew on. To make this toy more interesting, thread the rope through a ball by drilling two holes in the ball. Tie the knot at the top of the ball. Choose the size of ball that is appropriate to your dog. Tennis balls and a small rope will work for smaller breeds. Use a soccer ball and thick rope for larger breeds, to insure that the toy in indestructible.
Find an old pair of jeans that you don't mind sacrificing to your dog. Cut the jeans into three strips of 3-inches wide each. Make each strip as long as the length of the leg. Fold the strips in half, lengthwise. Stitching along the sides that you cut will reduce the chance that the edges will fray. Tie the three strips together at an end. Braid the full length and tie a knot at the other end. This makes for a sturdy tug-of-war toy for your dog.
Clean out a plastic bottle and fill it with beans to make an appealing rattle for your dog. Cover the bottle with an old sock so that the dog can chew on it without harming itself or destroying the bottle. Covering tennis balls with a sock will also make them into more durable chew toys.
Gather up old socks that are still of a durable quality. Stuff the largest sock with the other socks and tie off the end. The dog can chew on the sock without destroying it or making a mess of the stuffing.
References
Writer Bio
Joelle Dedalus began writing professionally for websites such as PugetSoundMagazine.com in 2009. She received her B.A. in English education at Iowa State University and is currently a M.F.A. candidate in creative nonfiction writing at Emerson College in Boston, where she is developing a manuscript on literary travel. Her areas of expertise include travel and literature, the outdoors and the arts.
Photo Credits
Ryan McVay/Photodisc/Getty Images