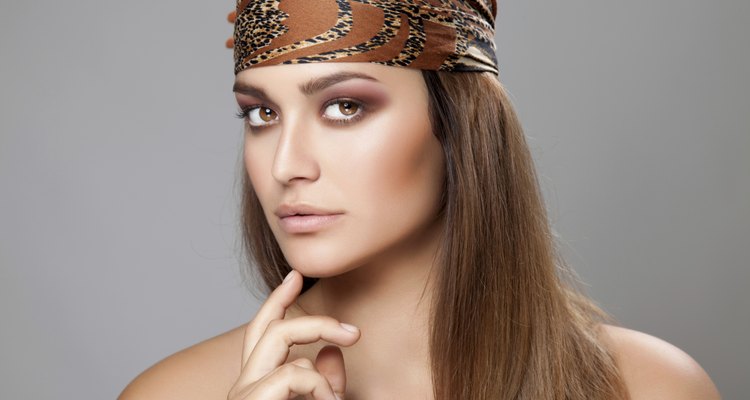 AND-ONE/iStock/Getty Images
The krama is a rectangular Cambodian scarf worn as a sarong, headscarf or face guard. Traditionally hand-woven from cotton or silk, the scarves may come in a wide variety of symbolic or decorative colors. To update your basic wardrobe options, tie your krama scarf around your head to upgrade a casual T-shirt and jeans for the weekend or wear it with business attire to give your suits and sheath dresses a little ladylike polish.
Sarong-style
Hold the unfolded krama lengthwise with the top edge against your back at your waist.
Pull the two sides of the scarf around to make a wrap skirt.
Tie the two upper corners of the krama in a simple knot at the side of your waist.
Headscarf-style
Fold the krama in half lengthwise. If the krama is decorated or colored on one side, fold it with that side out.
Drape the folded cloth over your head so the long folded edge is oriented toward your forehead.
Twist one of the free ends slightly and wrap it loosely around the front of your neck, around the back and back around the front.
Twist the other free end and tie the two ends together to secure the scarf. Tuck any excess cloth into the cloth wrapped around the back of your neck.
Extend the fabric wrapped around the front of your neck up over your nostrils to protect your nasal and throat passages from flying dust.
References
Writer Bio
Christina Sloane has been writing since 1992. Her work has appeared in several national literary magazines.
Photo Credits
AND-ONE/iStock/Getty Images