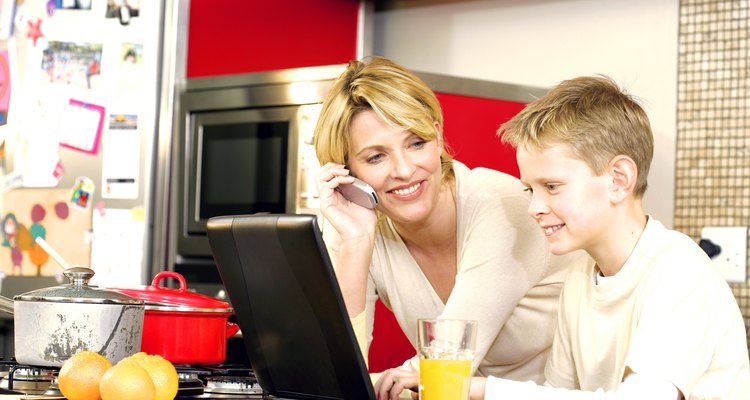 Goodshoot/Goodshoot/Getty Images
Create and Share a Family Directory In-Person and Online
Sometimes it's difficult to keep families together, whether they're separated by time or distance. One way to make it easier is to create a family directory to which everyone has access. It can be an invaluable tool when you have news to spread—good or bad—and realize that not everyone is on social media. Here's what to do and how to get started.
Start With What You Already Have
Do you have an old address book? Or do you have a well-organized system on your smartphone with everyone's full contact information? Whatever you already use for names, addresses and emails of family, consider that to be your rock-solid foundation. Now build upon it. If you have a family tree, take a close look at the branches you're missing and reach out to people who may be in touch with the relatives you're not.
Use Social Media
Facebook is a great tool to get in touch with long-lost relatives. Send a shout-out to everyone in your very extended family. What's best is that even if the person you're trying to locate isn't on the social media channel, someone who knows him may be. LinkedIn can also help. You can search and send in-mails or requests to connect.
Create a Survey
Once you have a list of names, it's time to get down to details. Don't just settle for a name and email address. See if you can get everyone to join in to provide information about their lives. Make it fun. A tool like SurveyMonkey allows you to ask a few questions that won't just fill in the blanks. Ask about birthdays, adoption or "gotcha" days, anniversaries and more. Wouldn't you like to know the pet people among you? Or how about the family's mutual favorite pastime or sport?
Compile the Data and Create the Directory
Whether you're scrapbooking all the info you're about to share or typing it all into a Word document, pulling it together is the crux of your assignment. Don't be afraid to get others on board, especially if you're unfamiliar on how to merge Excel sheets and Word documents. Be sure to add a theme and style. And a fun first page might be a calendar where you include everyone's birthday! Make the directory something that displays the personality of the full cast of characters in your family.
Distribute Your Directory
Once it's the work you and your family can be proud of, be sure to build it out and distribute. Create a pdf and send it as an attachment via email (now that you have everyone's email address). But be sure to create actual physical copies. Many of the people you'll most want to keep in touch with—for instance, your elderly relatives—probably aren't online. Don't neglect them.
References
Resources
Tips
To ensure fewer errors, don't rush the distribution of your final copy. Request regular updates of any changes to keep your data current.
Request a digital photograph to be included in the directory.
Warnings
Don't include any family member's information unless you have first contacted them directly and received their permission.
Writer Bio
Linda Emma is a journalist and freelance writer, specializing in family, parenting, and relationship topics. She has been writing for more than 20 years. She currently works at a marketing agency and Endicott College, where she provides tutoring services and sage wisdom to undergraduates.
Photo Credits
Goodshoot/Goodshoot/Getty Images