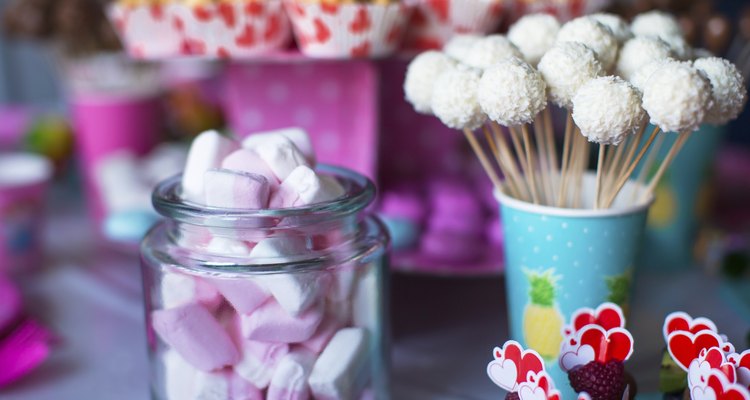 travnikovstudio/iStock/Getty Images
Not all brides provide favors for guests at the bridal shower, but it's a nice token of appreciation to let guests know how much their thoughtfulness means to you. Tags on the favors can be traditional or whimsical, reminding guests of the wedding date or generating chuckles with clever sayings that tie into the shower theme. The tags typically are small, which means you don't have room to write much on them.
Simple and Traditional
Because the favors are meant to express appreciation, the most traditional tags simply say "thank you" in some form along with the bride's name, or the names of the wedding couple. You might change it slightly to say "With love and thanks," for example, or "With deepest appreciation from the happy couple." You could also say something like "Thank you for helping us start our new lives in style."
Themed Showers
Many bridal showers incorporate a theme such as a garden or fairy tale party. The wording on the tags could reflect the shower theme, such as "Our love is in bloom. Many thanks from the bride and groom!" for a garden party or "Thank you for helping us start off our Happily Ever After with the right gear" for a fairy tale theme. For a nautical theme, your tags might read, "Your support helps anchor us as we prepare to start our lives together."
Whimsical Ideas
When the bridal shower has no theme but you don't want to stick with a traditionally worded favor tag, create a phrase that reflects your personality. Keep it fun and light. The tags might read, "Thank you for showering us with gifts and love" or "With hugs and kisses from the future Mr. and Mrs." The "hugs and kisses" message might accompany a small bag of chocolate kiss candies, adding to the humor. Similarly, if the favor is a tiny bottle of liquor, your tag could read "Thank you for getting us in the wedding spirit."
Save the Date Tags
In addition to thanking the guests, favor tags can include the wedding date. Putting the wedding date on the front or back of the tag serves as a helpful reminder for shower guests who also plan to attend the ceremony. Only include this if everyone at the shower is invited to the wedding; otherwise, some guests might misconstrue the "save the date" information as an informal invitation.
References
Writer Bio
Based outside Atlanta, Ga., Shala Munroe has been writing and copy editing since 1995. Beginning her career at newspapers such as the "Marietta Daily Journal" and the "Atlanta Business Chronicle," she most recently worked in communications and management for several nonprofit organizations before purchasing a flower shop in 2006. She earned a BA in communications from Jacksonville State University.
Photo Credits
travnikovstudio/iStock/Getty Images