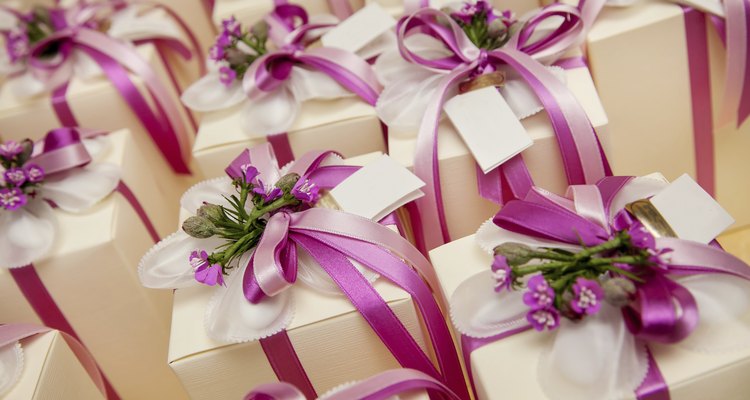 eli77/iStock/Getty Images
Some gift givers may be close to only half of the happy couple so they may wonder if the wedding gift card should be addressed to both. They may wonder about the appropriate tone of the message or whether they need to include a message at all. Gift cards should be addressed to both people, the tone should match that of the event and you should include a personal message. Resist the urge to add a special message to just one of them in the card.
Formal or Informal
If you are close to the couple, you may want to address the card informally to reflect your relationship. Etiquette rules say your card should reflect the formality of the event and not your intimacy with the couple. For a formal wedding, should address the card with the couple's married names. Not all brides change their last names, so do not assume "Mr. and Mrs. Jane Doe" is correct. If the event is casual, you may drop the honorifics and use first names instead.
Creative Messages
Never just sign the card. Add a personal message to the couple, such as "Congratulations on this happy occasion" or "We wish you both all the happiness in the world." Avoid references to starting a family or enjoying the honeymoon. If you cannot find your own words, consider using a quote or song lyrics that reflect your feelings for the couple.
References
Writer Bio
Amy Jorgensen has ghostwritten more than 100 articles and books on raising and training animals. She is also an amateur dog trainer. She has also written more than 200 blog posts, articles, and ebooks on wedding and party planning on behalf of professionals in the field.
Photo Credits
eli77/iStock/Getty Images