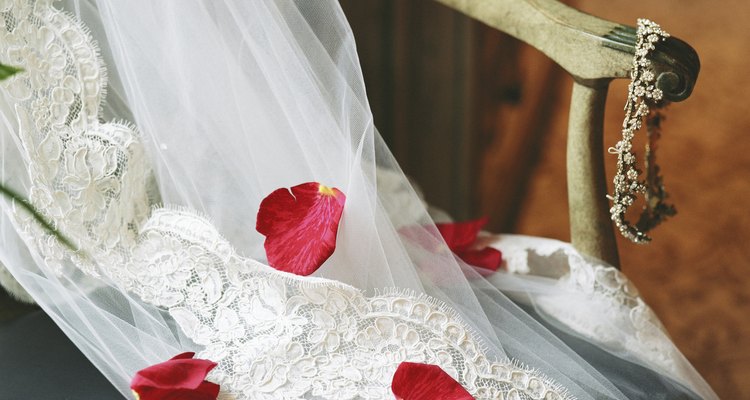 NA/AbleStock.com/Getty Images
A milestone anniversary—whether it's your first, 25th or 50th—is the perfect excuse to bring together your closest family and friends and celebrate like you did on your wedding day. Wedding anniversary party invitations should include details about the celebration and RSVP information. Following proper etiquette rules ensures that your guests know just what to expect. Likewise, party guests should respond within the given time frame so that the hosts have adequate time to prepare.
Timing
It is important to send out your wedding anniversary party invitations with enough time that your guests can clear their schedules and prepare for the event. However, if you send it too early, guests might misplace the invitation or forget about the event altogether. The Emily Post Institute recommends that hosts send out wedding anniversary party invitations three to six weeks in advance of the event.
Phrasing
The formality of your wording depends on the formality of the event. If you're hosting a formal, black-tie gala to celebrate your wedding anniversary, then use formal wording similar to your wedding invitation. Anniversary Ideas recommends formal wording to include third-person phrasing, spelled-out street names (for example, Road, Boulevard or Avenue) and spelled-out days, dates and times. If you're hosting a casual get-together, omit this formal wording—second person, abbreviations and numbers are acceptable.
Content
The content of your invitation should give guests an idea of what to expect. Include the hosts' names (whether that's the anniversary couple or a family member or friend), anniversary year, event location and time. The invitation should also indicate what type of celebration will take place. For example, if the couple plans to renew their vows with a dinner and dancing reception to follow, then indicate "Reception immediately following" or "Reception to follow" on the invitation. It is also important to include RSVP information on the invitation.
Gifts
Formal etiquette guidelines indicate that you should not mention gifts on the invitation, even if you want to include a "No gifts please" comment. Of course, guests may choose to bring cards or gifts or make charitable donations in the couple's honor, but it is best to exclude any gift information on the invitation.
Responding
Once they receive the invitation, guests should promptly respond to the event. Follow the indications on the invitation—the hosts may ask that you call or email with your reply or return a reply card to them. Even if the invitation does not request a reply, the Emily Post Institute recommends calling the host to let them know if you're attending. It is best not to change your response, so reply only when you are certain of your plans. The Emily Post Institute states that "changing a 'yes' to a 'no' is only acceptable on account of illness or injury, a death in the family or an unavoidable professional or business conflict."
References
Writer Bio
Barbie Carpenter worked as a technical writer and editor in the defense industry for six years. She also served as a newspaper feature page editor and nationally syndicated columnist for the Hearst Corp. Carpenter holds a Bachelor of Science in journalism from the University of Florida and a graduate certificate in professional writing from the University of Central Florida.
Photo Credits
NA/AbleStock.com/Getty Images