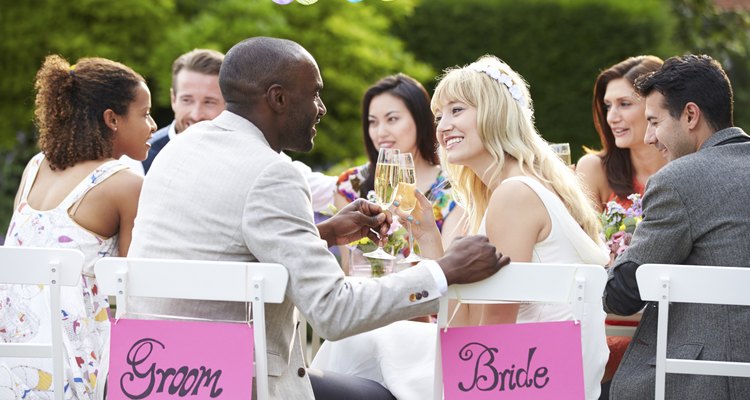 monkeybusinessimages/iStock/Getty Images
You go to the trouble of hiring a calligrapher and inserting a beautiful stamped envelope with specific instructions about replying to your invitation -- and still they don't.
The Wording
Include the date by which you expect a reply. That should be two weeks before the wedding. The actual wording can reflect your tastes as well as the formality of the event. "Please respond by... " is simple and direct. "The favor of your reply is requested by ...." is more formal. Also pleasant is, "Kindly reply by...."
Make it Easy to Reply
Include the phone number or email address if you wish to receive RSVPs that way. Have a system for collecting all of the information you need. A reply card -- stamped and addressed -- makes it easy for your guests to fill in their names, their food choices if asked, and any other information you need from them.
When They Don't Reply
Depending on the sort of crowd you are inviting, a certain number of guests won't bother to reply even when given a deadline. It is quite proper to call them for an answer. If you are uncomfortable with that, but you need a definite count, a gentle approach is to ask your potential guests if they received your invitation. Most people will apologize profusely and quickly offer up the information you need. You then save face for them and you by explaining that you are only calling because those pesky caterers are bugging you.
References
Writer Bio
Nate Lee was senior editor of Chicago's "NewCity" newspaper and creative director in a global advertising agency. A playwright and published poet, Lee writes about the arts, culture and business innovation. He received his Bachelor of Arts in English from Tulane University.
Photo Credits
monkeybusinessimages/iStock/Getty Images