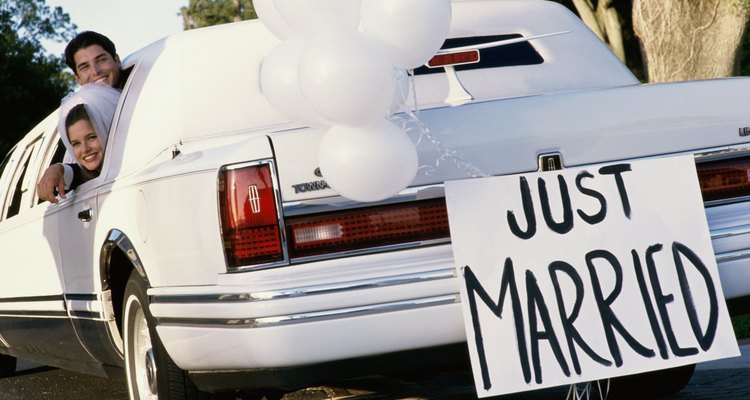 Purestock/Purestock/Getty Images
Wedding thank-you notes should be written within three months of the wedding to express your gratitude for the time and effort friends and family shared with you on your happy day. Thank your guests for their gifts, including monetary gifts. Special notes can also be written to tell guests how honored you are that they traveled a great distance to attend the ceremony.
General Advice
Make the writing task manageable by staying organized. Keep a list of every gift received and include details of the gift in your list, which will make writing notes easier. Don't expect to write all of your notes in one sitting. Instead, aim to write three or four at a time. Give yourself enough time to personalize each note, referring to the gift and its value to you.
Giving Thanks for Gifts
Begin your note with a personalized greeting, then express your gratitude for the item with as much detail as possible. The next sentence should describe how you plan to use the item, where you plan to display it, or an occasion when you intend to use it. Conclude with a general word of thanks. For example, "Dear Alice, Thank you so much for the red lacquered fruit bowl. We are so excited to keep it on the counter in our blue and white kitchen, where we know the bright pop of color will look fantastic. Thank you for thinking of us. With love, Nina and Pete."
Giving Thanks for Monetary Gifts
If you received checks or other monetary gifts, be specific about how you plan to spend the money. This should be done without referring to the actual gifted amount. For example, "Thank you for the generous gift. We are saving for a late honeymoon to Spain, and we plan to use some of our wedding funds to rent an apartment in Barcelona. We will be thinking of you as we enjoy the holiday of our dreams. Many thanks for thinking of us and for being a part of this moment in our lives. Love, Nina and Pete."
Thanking Guests Who Traveled to Attend
After the wedding it is also gracious to acknowledge loved ones who spent time and money traveling to attend the wedding. Tell your guests how happy you were to see them at the wedding and include specific details about their journey to let them know you understand their efforts. For example, "Dear Andrew, Thank you for traveling to our wedding. We know that it was no small task to travel to the Yellowstone Lodge from Puerto Rico. Your presence was a wonderful gift and your attendance made us feel truly blessed. Love, Nina and Pete."
References
Writer Bio
Fern Morris has been writing about the arts, culture, etiquette and society since 2004. She has published her work internationally in various magazines, websites, exhibition catalogues and academic journals.
Photo Credits
Purestock/Purestock/Getty Images