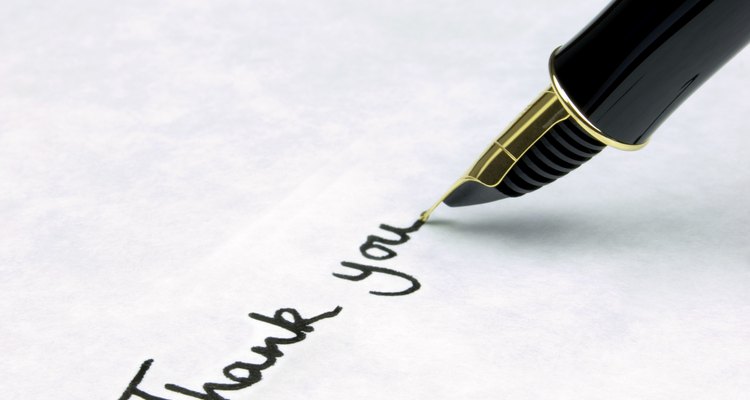 RTimages/iStock/Getty Images
Writing a thank you note to someone who didn't attend the wedding isn't that different from writing a note to someone who did. In the note, thank the person for the gift but express your regret that she or he was not able to attend the wedding. Send the note, along with all other thank you notes, no later than three months after the wedding day.
Give Thanks for the Gift
Use the thank you note as an opportunity to acknowledge the gift. If he gave you a physical gift, mention the specific item. For example, you can say, "Thank you for the set of pots and pans." If he gave you a check, you don't need to acknowledge the specific dollar amount. To fill out the note and make it personal, talk about how you plan on using the gift or how you've already used it. For example, you can say, "We used the blender to make smoothies last weekend and it works great" or "We're putting your check toward our honeymoon in Bali."
Acknowledge Her Absence
Express your regret that she wasn't able to attend the wedding, but end on a happy note. For example, you can say, "We're sorry you weren't able to attend the wedding but we'll send you lots of pictures" or "We missed you on the big day but you were with us in spirit." If she's someone you see on a regular basis, you can include a promise such as "We'll tell you all about the party next time we see you."
Tone of Voice
If you're not accustomed to writing thank you notes, avoid language that is stiff or overly formal. If you're sending the note to a friend or family member, it's fine to word the note just as you would talk to the person in a normal conversation. You can also include personal details such as "We'll show you wedding pictures when we see in you in July at the family reunion." If you're sending the note to a distant relative or a person you've never met, you can include a closing line such as "Hopefully we'll see more of each other in the future."
When to Send
According to standard wedding etiquette, thank you notes should be sent within three months of the wedding. But that doesn't mean you're off the hook after three months -- just send it as soon as you can. To stay on top of thank you notes, start to write them as you receive gifts. If someone RSVP's "no" to your wedding but you receive a gift in the mail, you can write the note as soon as you receive the RSVP and gift rather than when the wedding is over. Spreading the task over a long period of time makes the process manageable.
References
Writer Bio
Based in San Diego, Calif., Madison Garcia is a writer specializing in business topics. Garcia received her Master of Science in accountancy from San Diego State University.
Photo Credits
RTimages/iStock/Getty Images