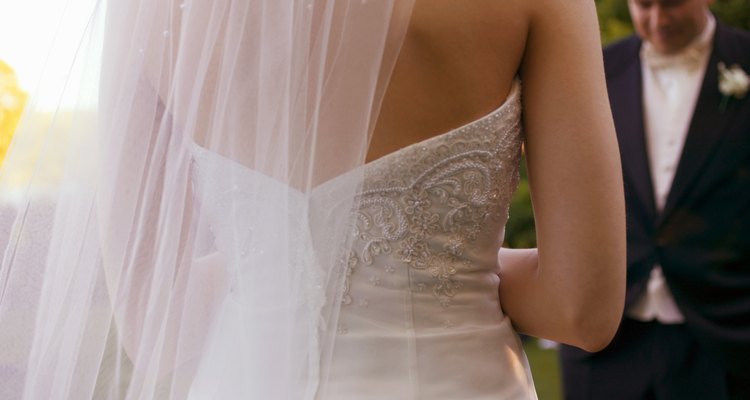 Jupiterimages/liquidlibrary/Getty Images
Many brides and grooms give each other special gifts such as cuff links or jewelry on the wedding day, but the really special part of any day-of-wedding present is a personal note. Take a few minutes a day or two before your wedding to write this note to your spouse-to-be, so you're not rushed on the big day to say something meaningful.
Your Relationship
Before you write anything, brainstorm a few ideas. Get out a piece of scratch paper or use a word-processing program to write down some significant moments in your relationship. Do you want to mention any of those instances in your note? It might be nice to mention how you were feeling the night he proposed or how you knew she was the one when you met her at the library. It will be special for your partner to think about some of those significant moments before she walks down the aisle.
Your Fiancé or Fiancée
On that same sheet of paper, write down the qualities that you love in the person you're about to marry. Try to be as descriptive as possible. For example, instead of saying that he's thoughtful, you might say that you love how he always calls if he is behind schedule and how he fixes you dinner when you have to work late. What does he do that's special? Pick out two or three of these qualities that mean the most to you and include them in your note.
Your Engagement
Have you been engaged for three years and counting down the days until you get married, or have you been engaged for only a couple of months? Say something about your engagement, such as, "Since the day I proposed one year ago, I've always thought about the moment when you would walk down the aisle." If you've had a whirlwind engagement, you could write, "I know this engagement has been fast and overwhelming with all the planning, but when you know, you just know. I'm glad it's been with you."
Your Future
If you've talked about your future, mention something about it in your card. For example, you could mention the promise you've made always to listen to each other and to make time for each other every day. This would be a good place to make promises about your future, as you'll do in your vows. You might note that you'll try to be patient and always put her before anything else. You can end the note by letting him know how you're currently feeling, such as by saying that you can't wait to call him your husband.
Writer Bio
Michelle Bolyn is a licensed mental health professional and has worked since 2006 as a therapist. Bolyn has been writing mental health, wedding-related and relationship focused articles since 2007. She is published on Suite101.com and Examiner.com. Bolyn received her master's degree in social work from New York University.
Photo Credits
Jupiterimages/liquidlibrary/Getty Images