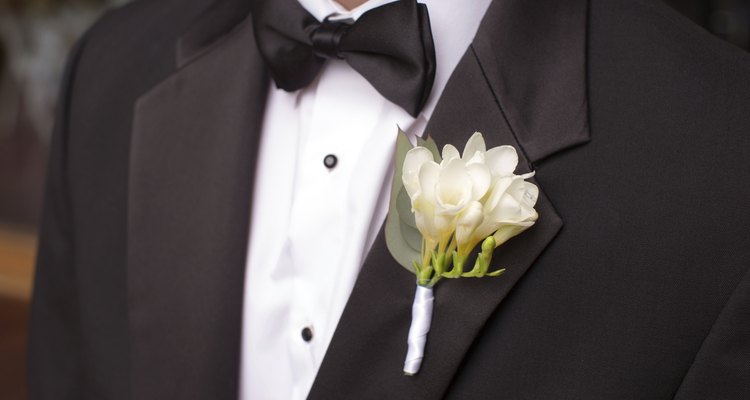 paulrichstudio/iStock/Getty Images
The tuxedos that men wear to black tie events, proms and weddings have many components, many of which you don't see in everyday clothes. Tuxedo studs, for example, are the tiny, pea-sized buttons that replace standard shirt buttons. Like cuff links and cummerbunds, studs lend a more formal appearance to a shirt.
Operating Instructions
Even though tuxedo shirt studs are optional, you may want to know how to put them on for that special occasion. Look for the tiny stud hole next to each shirt button on a tuxedo shirt. Insert the front of the stud from inside of the shirt, and push it through the stud hole. Then simply push the stud through the normal buttonhole on the other flap of the shirt front.
Stud Style
Although black is the traditional color for tuxedo studs, they come in a variety of other colors and metals. Studs come in sets of three or four, with nicer sets containing only three. If a man is wearing a Windsor tie and vest, he may decide to skip inserting studs, because they won't be visible under the tie. Some also opt not to insert the lowest stud, as the cummerbund will cover it.
References
Writer Bio
Kimberly Johnson is a freelance writer whose articles have appeared in various online publications including eHow, Suite101 and Examiner. She has a degree in journalism from the University of Georgia and began writing professionally in 2001.
Photo Credits
paulrichstudio/iStock/Getty Images