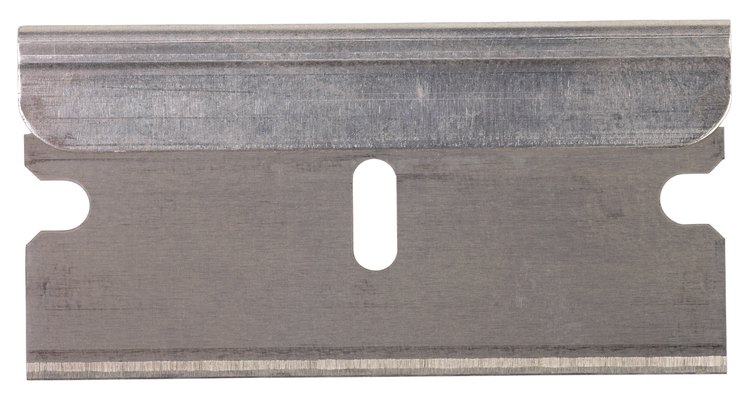 Hemera Technologies/PhotoObjects.net/Getty Images
Razor blades are for shaving, but also are used as cutting tools for crafts and as scrapers for some cleaning projects. Razor blades must be safely disposed of because of the possibility they can cause serious injury or disease contamination to anyone who handles garbage. A sharps container similar to the ones used by health-care professionals can be made to contain razor blades to protect the homeowner, a child doing chores, garbage men and landfill employees.
Look for a sturdy metal or plastic jug or box with a metal or plastic snap-tight lid. Bleach or liquid soap bottles and metal cans with secured metal lids are just a few of the types of containers that will work for a sharps container.
Remove the lid and turn it upside down. Draw a 1/4-inch by 2-inch rectangle on the center of it with a permanent marker. If using a bleach or large liquid soap container, draw the rectangle shape on the top side.
Place a piece of corrugated cardboard under the lid to protect your work surface. Take a craft knife or tin snips and cut open the rectangular shape. Try to keep your lines even when cutting. Hold the bottle down on the work surface when preparing to cut into the side of an empty container. Go slowly and cut away from your body to protect yourself.
Replace the cover on the container. Take packing tape or duct tape and place the tape end on the side of the cover rim. Extend the tape up and over the top of the cover a half inch to one inch. Adhere the tape around the entire top side of the container, securing the top permanently.
Insert used razor blades into the slot that you have cut. Write the word "Biohazard" on the container with a permanent marker. Dispose of the filled container as directed by your municipality.
References
Writer Bio
Suzie Faloon is a freelance writer who has written online content for various websites. As a professional crafter and floral designer, Faloon owned a florist business for nearly 25 years. She completed the Institute of Children's Literature course in 1988.
Photo Credits
Hemera Technologies/PhotoObjects.net/Getty Images